Salmon has got to be one of my favorite fish. I usually prepare this quite simply. Steam , poach or pan fry the Salmon Fillet with garlic and then serve with lemon . Mida Food chef Enrique "Rikks" Valles shared another version using Dijon Mustard. My husband just loves anything mustard especially with Beef. Since it is Lent and yes, he observes the Catholic "diet", the Salmon substitute works well too. I am sure you will love this especially since capers and anchovies will add a nice subtle salty flavor to the Salmon.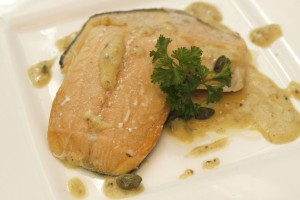 Ingredients:
4 pieces Salmon Fillet Portion (skin off)
Salt & Pepper
1 piece lemon
1 cup dry white wine
1 cup water
half stick butter
1 large red onion
Capers
½ cup sour cream
1 tablespoon Dijon mustard
2 thin anchovies
Directions:
1. Place salmon in a large skillet. Add ½ cup white wine and enough water to cover. Bring to a boil then reduce to a simmer. Turn salmon over and cook for 5 minutes. Remove from heat.
2. Heat butter in a medium pan, and let brown. Add onions and let sweat. Add capers and anchovies. Let simmer for 1 minute.
3. Add Dijon mustard and simmer for another 10 seconds. Add other herbs you like.
4. Serve with sauce.
You can get more culinary tips and recipes by logging on to www.themayakitchen.com