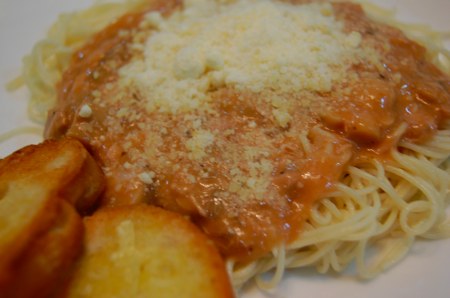 During our dorm days at Sampaguita Residence Hall at UP Diliman, my aunt shared with me her fabulous Tuna Spaghetti. I remember preparing this dish one year for our annual Open House at "Sampa." Check it out!
For every pack of Italian spaghetti (regular-sized box of 500 grams), use the following:
2 cans of tuna or tuna flakes or approximately 1 cup (in oil or water, your preference)
2 cans of tomato sauce or around 2 cups (OPTIONAL I did not say tomato paste)
1 box of grated Kraft cheddar cheese or 1 cup (225 grams- the same size as a bar of butter)
2 cans of Campbell's cream of mushroom soup
1/2 cup of mushrooms, sliced
pepper to taste
salt to taste
dash of Italian seasoning
Procedure:
1. Make the sauce first.
Saute the following ingredients in a little oil (2 tbsps.): 1/2 head of garlic that has been macerated (or less garlic, if you prefer) and 1/2 an onion, diced. Saute until the onion looks quite transparent.
Add the tuna then the sliced mushrooms.
Add the tomato sauce (optional) and Campbell's cream of mushroom soup. Add water to fill into 1 Campbell Soup can and add to the mixture. (Note: If you remove tomato sauce, just add 1 1/2 cups of water to the cream of mushroom soup)
Then, add a little water inside the tomato sauce's can (swish it around a bit so the rest of the tomato sauce mixture is mixed with the water). Add to the tuna mixture.
Season the mixture according to taste. Make it slightly salty so that when the tuna mixture is mixed in with the cooked spaghetti noodles, it will taste just right.
2. Cook the noodles.
Boil water in your Dutch Oven or huge cooking pot. Add some oil and salt.
When the water boils, add the spaghetti noodles. If you like, halve the noodles.
Cook until "al dente."
3. It's best to mix the sauce and noodles and arrange them on a serving platter like a pyrex dish.
4. Garnish with Queso de Bola or Magnolia or Kraft Cheddar Cheese.