The Real Carbonara Spaghetti is not really creamy. The noodles are coated in eggs and cheese. There is another way to cook this. Creamy Spaghetti Carbonara , Pinoy style—so easy and takes only 30 minutes from start to finish. This recipe is really handy when you suddenly have guests that arrive or you are a beginner in cooking. The ingredients comprise of canned mushroom soup, cream, ham, bacon and noodles. You are also assured that the taste will come out a best seller. Try this next time when you have surprise guests. Here is the creamy carbonara recipe:
Ingredients
Ingredients
2 cans Cream of Mushroom Soup
200 ml Anchor whipping cream
200 grams sweet ham, in small squares
200 grams bacon, shredded
400 grams noodles
1 head garlic
a dash of nutmeg
a dash of pepper
50 grams Anchor butter
1/2 cup Anchor parmesan cheese for garnishing
Parsley for garnishing , optional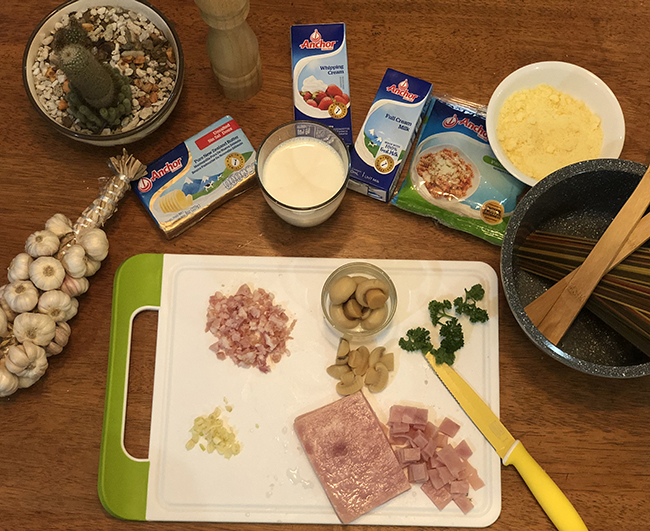 Preparation
1. Prepare the pasta based on instructions. Set Aside.
2. Fry the bacon until brown and not too crispy. Set Aside 1/4 for garnishing and the rest for the sauce.
3. In a sauce pan, saute garlic with 50 grams Anchor butter. Add ham and 3/4 of the fried bacon from step 2.
4. Add the 2 cans of creamed mushroom soup with 2 cans of water.
5. Add the Anchor whipping cream. Mix well.
6. Season with nutmeg and pepper.
7. Serve the sauce and noodles separately. Top with bacon bits and/or parsely
I like that my readers appreciate my recipe.