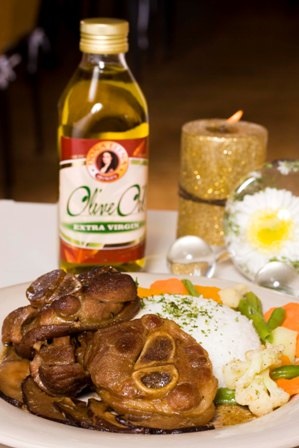 A lot of Pinoy cooking uses oil. A sure way to make healthy dishes is replacing regular cooking oil with olive oil. The dilemma of most Filipino homemakers lies on the high prices of olive oils, unlike the more affordable lesser quality oils. Fortunately, I got introduced to Olive oil that can provide the same throng of health benefits, not to mention a rich a flavorful taste without going over the budget. Once can cook Pata Tim with olive oil but don't use virgin olive oil for cooking. Here is their recipe: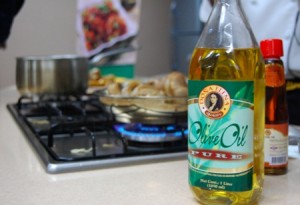 Ingredients
1 1/2 kilo Pork Leh (chopped)
1 head garlic (minced)
3 tablespoons soy sauce
2 tablespoons Oyster sauce
1 tablespoon rice wine
1 tablespoon patis
1 teaspoon sesame oil
1 cup pork or beef stock
2 tablespoons cornstarch in 4 tablespoons water
1 tablespoon Pure Olive Oil
1 Tablespoon garlic
4 pieces lettuce leaves (sliced)
6 pieces Shiitake mushrooms (whole)
2 Star Anise (optional)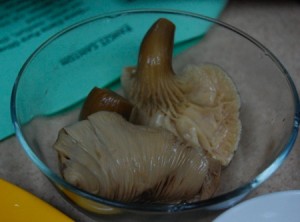 Procedure
1. In a pot, boil pork leg until tender and keep stock.
2. Baste pork leg with soy sauce and brown in oil.
3. In another casserole, boil water and put in pork legs to take out oil.
4. Take out pork legs and discard water, take bones out and discard.
5. In a baking dish, arrange pork.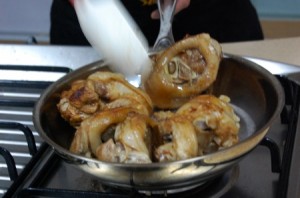 6. In a bowl, mix oyster sauce, rice wine, fish sauce, cornstarch diluted in water and sesame oil and soy sauce.
7. Pour in mixture to pork leg.
8. Steam pork leg for an hour or until cooked.
9. Saute lettuce and shiitake mushrooms in olive oil, garlic, star anise (optional) and oyster sauce until tender then make a bed for the Pata Tim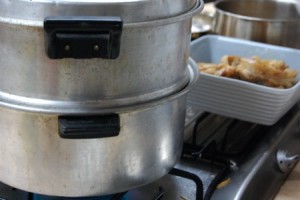 There you have one recipe using olive oil.
"Olive oils contain unsaturated fats that are less oxidized as compared to more common cooking oils," says Professor Callanta, a UP professor. "Oxidized cholesterol from the more common cooking oils sticks to the artery walls and from the plaques that lead to heart attacks and strokes".
Happy healthy cooking!