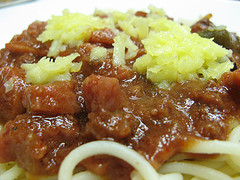 Before Jollibee or even Tropical Hut came out with the Filipino version of the Italian Spaghetti, there was Makati Supermarket's spaghetti sold in their coffee shop in the early sixties. This is probably how the sweetish Filipino spaghetti evolved. A popular American blogger once commented that our Jollibee spaghetti tasted horrible. It must have seemed different from Italian spaghetti since the latter is sour. Filipino spaghetti has sweet sauce.
Filled with vienna sausage, ham strips, ground beef and grated cheese, the sauce of Makati Supermarket' spaghetti is sweet with a tinge of spiciness. When I was in college during the mid-seventies, my dorm-mates and I would travel all the way from the UP campus to Makati Supermarket in Ayala. The supermarket does not exist anymore. These days you can eat their spaghetti at Cash and Carry Supermarket along , President Osmena Highway (South Superhighway) near Buendia Makati City and Makati Supermarket in Alabang.
A reader pointed out to me that some evidence of an even earlier birth of the "pinoy spaghetti" exists in the memoirs of Gen Douglas McArthur (yes the "I shall return guy"). I am not able to pull the line verbatim but it went mostly like this:
this sauce, so sweet on spaghetti, hardly seems like spaghetti sauce but it is good.
Through the years, I developed my own Filipino-Style Spaghetti Sauce. If you are in a hurry, you can always buy those ready-to-use Filipino Style Spaghetti sauce sold at the supermarket. But let me tell you, there is nothing more srcumptious than cooking spaghetti sauce in your own special touch. Here is my recipe which you can always innovate.
Sauce
500 grams spaghetti noodles
1/2 cup olive oil
1 head garlic, minced
1/4 kilo ground beef
1/4 kilo ground pork
5 pieces hot dog sliced diagonally
1/4 cup vienna sausage, sliced
1/4 cup sweet ham, sliced in small squares (1/2 inch by 1/2 inch)
1 bottle banana catsup (don't substitute!)
1 cup chopped onions
1 cup tomato sauce
1 cup water
1/8 teaspoon black pepper
1 bay leaf
1/2 cup chopped green and red bell pepper (some don't really like pepper so this may be optional)
1/8 cup brown sugar
1 teaspoon oregano
salt and pepper to taste
1/2 cup grated cheese
Procedure
1. Cook spaghetti noodles according to package instructions.
2. In a kawali or wok, sauté garlic and onions in olive oil.
3. Combine ground beef, ground pork, bay leaf, green and red bell pepper and a cup of water in the wok. Allow to simmer for 10 minutes.
4. Add tomato sauce, banana catsup and allow to simmer for 10 more minutes
5. Add brown sugar, vienna sausage, sweet ham and hotdogs. Simmer for 5 minutes.
6. Add a little more water (maybe 1/2 cup more) till you get your desired consistency. Add salt and pepper to taste.
7. Serve separately with cooked spaghetti noodles and grated cheese on top.