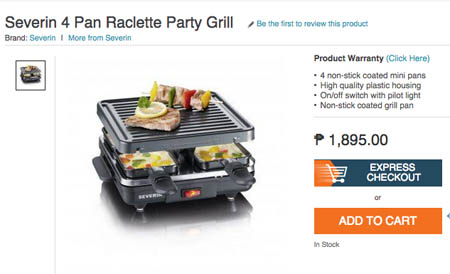 You can purchase the Severin 4 pan Raclette Party Grill online at Lazada. Just click here.
How does one celebrate 30 years of married life? A romantic dinner at the hotel or a romantic dinner at home?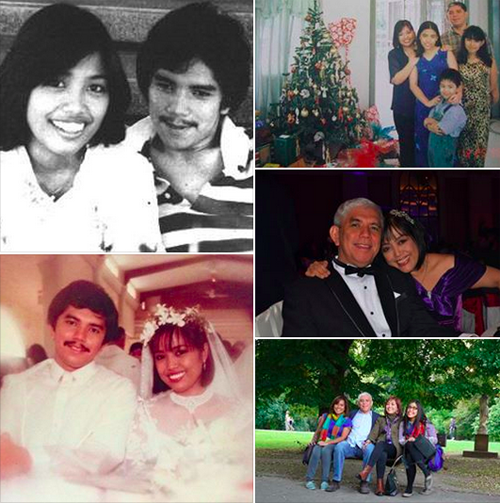 Then I remembered  our Afternoon Delights with  Braun and Severin kitchen appliances. During that event, I got to bring home this Severin Raclette Party Grill (1,895.00 pesos) because I just knew it would great for interactive cooking during family dinners. WHy not test it out for our anniversary dinner? Having grills on the dinner table turns out to be a great bonding experience with family members. .I have done this many times with Korean grill and the Cheese fondue set. Too bad, my girls don't live with me but I am sure they would have loved to have been part of this celebration.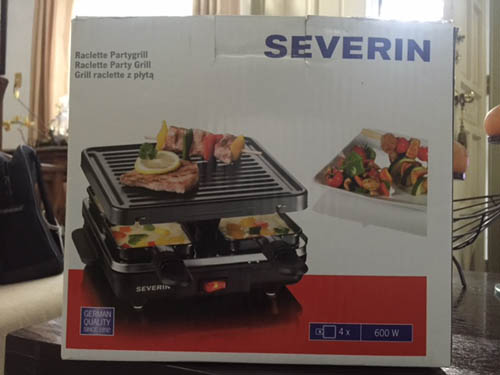 You can purchase the Severin 4 pan Raclette Party Grill online at Lazada. Just click here.
I did a little research on the preparation of a Raclette dinner. Raclette is a firm, pungent cheese from Switzerland that is the center of a popular winter social event in the Alpine parts of Europe. The cheese is made of cow's milk and is salty, and can come in variations made with wine, pepper, and herbs. I bought my Raclette cheese at Shopwise Libis for 145 pesos /100 grams. It is interesting to know the history behind the Raclette dinner and its modernized version .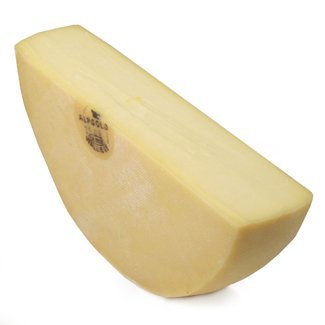 The word "raclette" comes from the French word "to scrape." Raclette makes up a simple meal that was enjoyed by shepherds in the fields. They would boil up some potatoes, and heat a stone and melt a bit of the raclette cheese on the hot stone. Once melted, the cheese was scraped off and served on top of boiled potatoes and sliced cold meats, charcuteries, cornichon pickles, and pickled onions are traditionally served on the side. A dry white wine is best to accompany this dish.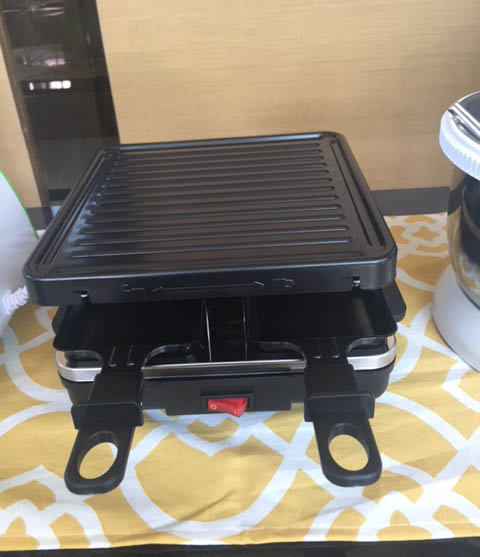 Raclette preparation does not have to be limited to the classic way it was prepared in the medieval ages. Here is another useful site on "A Guide to Easy & Fun Gourmet Raclette Recipes". Many raclette recipes are surprisingly easy to make . Just Innovate!  I decided to create my own simplified version using a combination of Raclette and Emmental Cheese. Here is my Raclette dinner version: Sliced Baguette (instead of potatoes) Sliced Pickles (I couldn't find pickled onions) Raclette cheese, 100 grams (Bought this at Shopwise for 145 pesos/100 grams) Emmental Cheese, 100 grams ( 100 pesos for 100 grams) Asparagus Cherry Onions Bacon slices Swiss sausage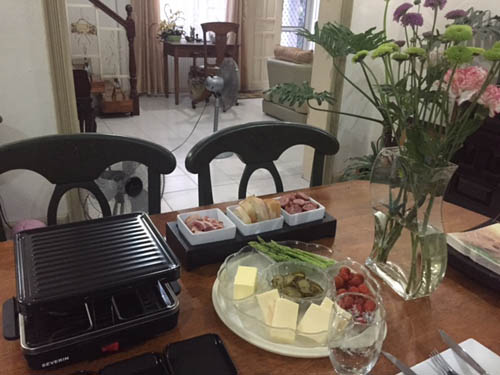 I heated everything on the top grill and added slices of raclette and emmebtal into the small nonstick pans. There is only one switch for the Severin Raclette party grill so I turned that on.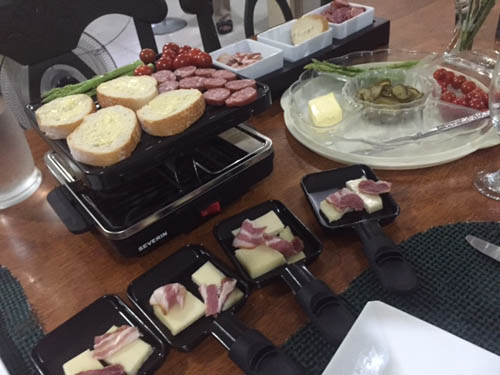 The veggies , cherry tomatoes and asparagus were brushed with olive oil.  The degree of heating depends on you. I just turned it off when the cheese melted below the grill.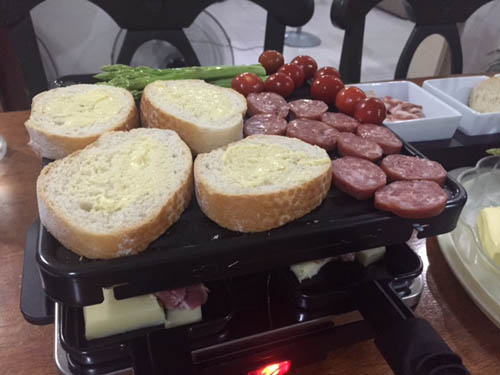 Then I plated the bread, sausage and other veggies first before pouring the melted cheese on it.  My husband loved it. He wants to try out other cheeses in the future like our native white cheese in combination with Swiss cheeses. What do you think?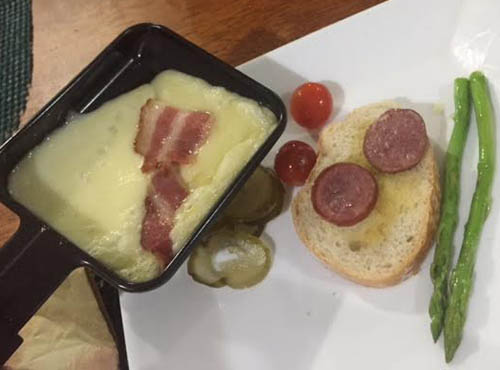 That's it.  A very simple and humble meal, yet very filling. My husband and I drank "Yellow Tail" red wine (instead of white sine) to celebrate our 30th years of married life.  What a great conversation piece.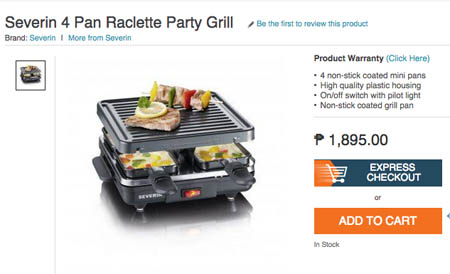 You can purchase the Severin 4 pan Raclette Party Grill online at Lazada. Just click here.