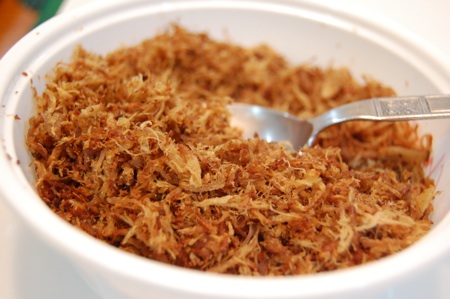 Adobo flakes is a hit in the family. It is quite easy to prepare. Just cook some adobo or recycle leftover Adobo, shred into flakes and toast to the right combination of chewy and crisp perfection. My husband prepared Adobo Flakes for the kids yesterday.
Ingredients
leftover adobo (see Adobo recipe)
1 tablespoon oil and sauce from left-over adobo
1. Use your left-over adobo. If you can't wait, just cook adobo using your own recipe. If you don't have one yet, here is my white adobo recipe (without soy sauce) .
2. When cooked, shred (by hand) the adobo into flakes. We like ours really shredded bits but the size depends on your preference. Set aside.
3. In a frying pan, add little of the oil and sauce of the left-over adobo.
4. Fry the adobo flakes from number 2 until crispy and a bit chewy. Don't burn.
5. Serve as toppings on arroz caldo or for pan de sal filling. It also tastes good with garlic rice.
Today, the family ate it with arroz caldo.