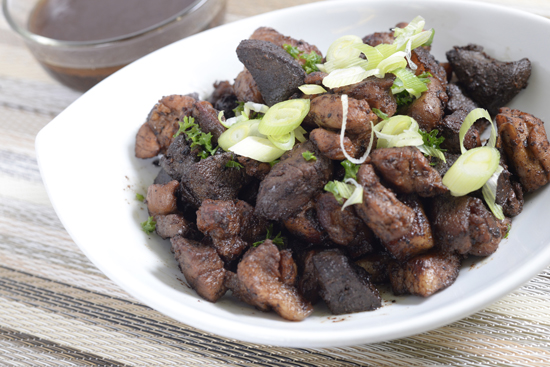 My husband is fond of buying me recipe books or any books about food. One such book is The Adobo Book (Traditional & Jazzed Up Recipes) by Reynaldo Gamboa Alejandro and Nancy Reyes-Lumen. Not only do you get recipes of various authors but trivia and essays on adobo. The Personal Styles reflect the cook's preferences. You should read the more than 100 adobo recipe variations ranging from Pork Adobo in Buco Juice, Adobong Tsino, Microwave Adobo, Fresh Oysters Adobo, Adobo sa beer and so much more.
My daughter who is now based in Germany once asked me how to cook Adobo. I told her there are many ways to cook Adobo, of course. What I'd like to show from the "Adobo Book" are tips for cooking adobo which is entitled the "10+ Commandments in Cooking Adobo". I am sure you will learn a tip or two even if you have been cooking adobo for years.
1. Pork Liempo is best, tastiest and is better with skin-on. When cooked, becomes sticky and gelatin-y and helps thicken the sauce gloriously.
2. Simmer! Cook meats in low fire from start to finish (till meats are tender) and sauce is reduced [Cook uncovered in the last 10 minutes]
3. The usual ratios are
1 kilo meat (chicken or pork): 1/2 cup native vinegar (reduce accordingly to acidity of vinegar).
1 kilo meat (chicken or pork): 1/2 cup vinegar: 1/4 cup water
Soy sauce can range from 2 tablespoon to 4 tablespoon per 1/2 cup vinegar
1 kilo meat: 1/2 cup vinegar or acid: 1/2 tablespoon coarse salt
2-4 tablespoon soy sauce: 5- 10 peppercorns: 1 laurel leaf
4. Cook chicken separately from pork. Flavors come out better. Then combine later when serving.
5. Always have salt in adobo. It helps balance the acidity.
6. Crush peppercorn at the last minute to retain its aroma.
7. 1 medium-sized laurel leaf can add flavor and aroma to 1/2 kilo meat. If you have the chance, use fresh laurel leaves.
8. Garlic. Crush only when about to be used. If left in the marinade overnight, it will lose its strong flavor. Be generous with garlic.
9. Braise meat first in, first out till brown. Then simmer till tender. For a better finish, bake at the last 15 minutes.
10. Mix with liver spread or mashed liver. Broiling or roasting liver over coal adds a nutty flavor.
11. Adobo with gata. Gata can be combined with coco milk and coco cream.
12. Do not stir vinegar till it has cooked. That is, when all the acid has evaporated. Your nose will tell.
13. Cook covered and on low heat (also called simmering)
14. The "Flow Chart" of Cooking Adobo
Marinate –> braise–> simmer –> tenderize –> fry –> reduce –> keep for a day –> serve!
I bet you didn't know all of the above tips. I must admit that I wasn't aware of Tip number 10 where you add liver for a nutty flavor.
When it comes to the adobo dish on regular basis, I serve 3 variations of adobo: the Classic Adobo Recipe, the Chicken Adobo in coconut cream and White Adobo.
What about you? How many adobo dishes do you regularly cook?