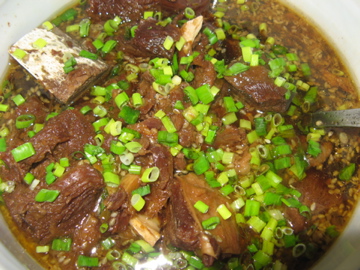 I first ate Korean Beef Stew at the old Kimchi Korean Fastfood in the mid-seventies. My love for Korean beef stew inspired me to make my own version similar to the Kimchi Korean beef Stew. Here is my version that is a hit with my guests.
Korean Beef Stew
1k beef ribs (half kilo is lean and half kilo are beef shanks or short ribs)
1/2 cup sugar
2 tbsp sesame oil
2 tbsp rice wine
3/4 cup soy sauce
1 head crushed garlic
1 onion head
1 Tbsp Ginger, crushed
1 cup green onions, sliced
salt
pepper
2 pieces red sili finely chopped (use more if you want it spicy)
A. Preparation
Combine the first 8 ingredients
Marinate beef overnight
B. Cooking
4tbsp oil
water
1. Heat oil and sear marinated beef
2. pour marinade
3. add enough water just to submerge beef
4. simmer over low heat (2 hours) until tender or pressure cook for 35-45 minutes. (Tip: test at 35 minuts if beef is tender)
5. season to taste with sugar, salt, pepper and red sili
6. garnish with green onions, 1 tsp sesame oil, sesame seed.