Tamales is a comfort food. My mother served Tamales during special occasion and loved the flavor bursting goodness .  It is a complete meal in itself without the veggies. Surprisingly, Tamale, is a favorite comfort food in Mexico, eaten as both breakfast and dinner, and often accompanied by hot atole or champurrado and arroz con leche (rice pudding) or maize-based beverages of indigenous origin. I have not cooked Tamales in a long time and I was so happy that Chef Sau del Rosario showed a cooking demo at the Expo Mom 2015.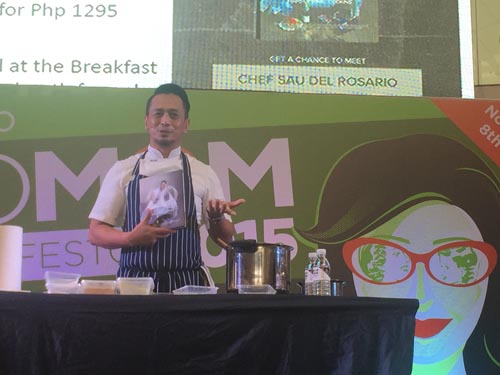 According to Chef Sau, Tamales or bobotu to Kapampangans is a dish we learned from the Mexicans. The dish was inspired by the Filipino women who gathered themselves during elections and cooked Tamales while their men went out to vote, thus the word "bobotu" (means to vote). What a trivia! Let me share the recipe culled from Chef Sau del Rosario's book "20 years of Love + Cooking". "The recipe shared by the Mexicans in Pampanga only indigenized using rice instead of corn and wrapped with banana leaf instead of corn husk, since rice and banana were abundant in the Philippines. In fact the place in Pampanga was named Mexico!", added Chef Sau in my facebook wall post.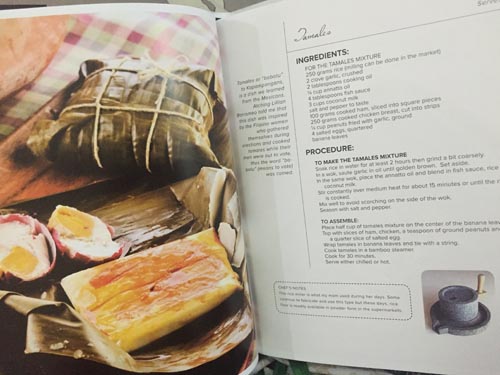 Ingredients:
Tamales mixture:
250 grams rice (milling can be done in the market or buy rice powder)
2 clove garlic , crushed
2 tablespoons cooking oil
1/4 cup annatto oil (How to prepare annatto oil)
4 tablespoons fish sauce
3 cups coconut milk
salt and pepper to taste
100 grams cooked ham , sliced into square pieces
250 grams cooked chicken breast, cut into strips
1/4 cup peanuts fried with garlic, ground
4 salted eggs, quartered
banana leaves to wrap the tamales mixture
Procedure
To make the tamales mixture
1. Soak rice in water for at least 2 hours then grind a bit coarsely (You can also use rice powder)
2. In a wok, saute garlic in oil until golden brown. Set aside.
3. In the same wok, place the annatto oil (How to prepare annatto oil) and blend in fish sauce, rice and coconut milk.
4. Stir constantly over medium heat for about 15 minutes or until the rice is cooked.
5. Mix well to avoid scorching on the side of the wok.
6. Season with Salt and pepper.
To Assemble
1. Place half a cup of tamales mixture on the center of the banana leaves.
2. Top with slices of ham, chicken, a teaspoon of ground peanuts and a quarter of salted egg
3. Wrap tamales in banana leaves and tie with a string.
4. Cook tamales in a bamboo steamer.
5. Cook for 30 minutes.
6. Serve either chilled or hot.
Sometimes, it is hard to look for banana leaves so Chef Sau said you can also prepare it on a wide glass and assemble as you would on top of the banana leaves. The difference I can see here is that you won't be able to taste the distinct flavor from the banana leaves. Anyway, I got to taste the Tamales and it was so good even served cold.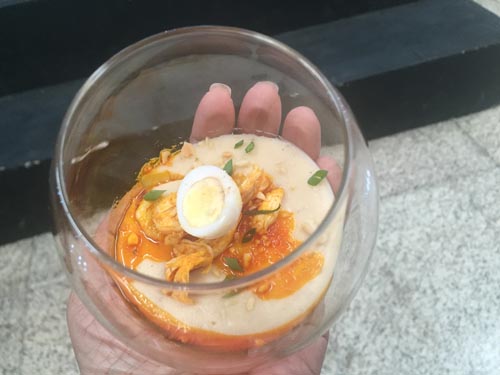 I wasted no time in buying his recipe book which happened to be discounted for Expo Mom 2015.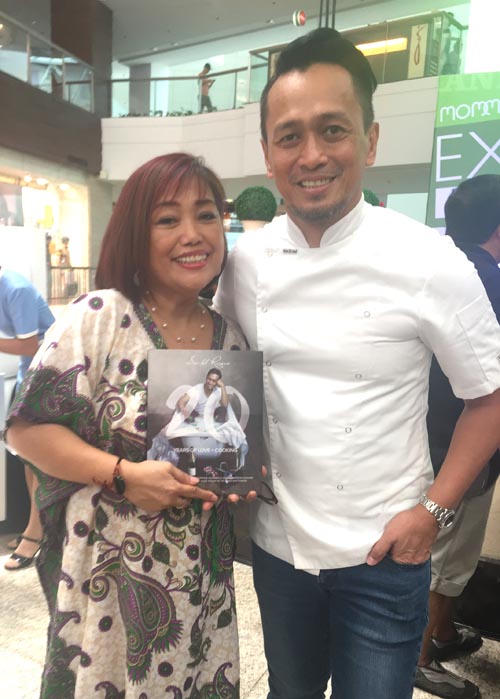 I told Chef Sau that I will be showing his recipe book to my readers :
Dear Momblogger,

A glimplse of my simple life that led me to a beautiful one. Thanks for promoting good food especially the Pinoy cuisine.

Love

Chef Sau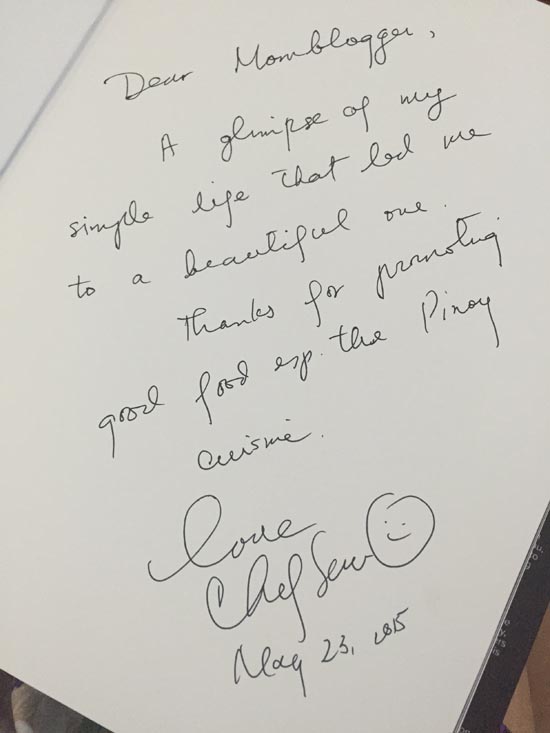 The book does not only contain his recipes and photos of his cooking. He talks of his pain and challenges as a Chef and how he was able to transform this for good. It also features 20 of his good friends who became a part of his successful career. It will also feature recipes from friends and of course, from him. You can buy his book at National book store or Fully booked at 1,295 pesos.