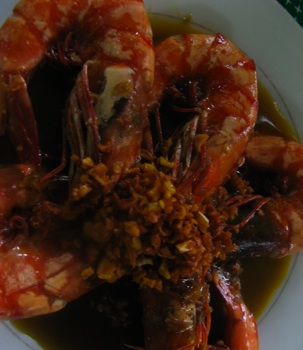 There are many ways to cook Shrimps and the easiest is to saute the shrimps in garlic. This style of cooking is Gambas. Others add tomato sauce and other vegetables like carrots or red bell pepper. I prefer the toasted garlic taste on my shrimps.
Ingredients
500 grams medium-sized shrimps, in shell
1 teaspoon, rock salt
1/4 cup Olive Oil
2 cloves garlic, minced
Tabasco or hot sauce
salt and pepper to taste
1 Sliced green chili
2 tablespoons chopped parsley
5 tablespoons olive oil
Procedure
1. Toss shrimps and rock salt together.
2. Heat heavy frying pan with 1/4 cup olive oil until hot. Sauté garlic until almost brown. Set aside one teaspoon toasted garlic for garnishing.
3. Drop the shrimps and continue stirring to keep from sticking to the pan.
4. Cook 1 minute then add 4 tablespoons olive oil.
5. Cook 3 more minutes. Season with tabasco sauce, salt and pepper to taste. Set Aside.
6. Mix parsley and sliced green chili with 1 tablespoon olive oil
6. Transfer to a platter. Serve with Shrimp with the oil from kawali. Sprinkle with toasted garlic and green sili.