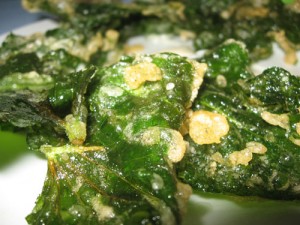 Crispy Spinach or Crispy kangkong is basically an appetizer during parties. Don't expect to get Vitamin A because they are all lost after the extreme heat. The most you can get are fibers and that urge to munch on something crunchy other than potato chips. So try this out.
Ingredients
2 bundles of Kangkong ( or spinach) or roughly 1/4 kilo
2 beaten eggs
2 cups cold water
1 teaspoon ground black pepper
½ teaspoon refined salt
3 cups cornstarch
1 cup all-purpose flour
cooking oil
For Garlic-Mayonnaise Dip
Mix all of these below:
1 cup low fat mayonnaise
1 tbsp. Worcestershire sauce
1 cup cottage cheese
1/2 teaspoon minced garlic
dash of pepper
Procedure
1. Wash Kangkong leaves. Remove the leaves. Set aside stems for Adobo-kangkong.
2. Let the leaves dry.
3. Combine egg, cornstarch, flour, salt and pepper with cold water. Mix well.
4. Mix with kangkong leaves and stir until all the leaves are coated with the batter.
5. Heat cooking oil in a frying pan. Dip the leaves in oil and fry until crispy. Drain the oil of the fried leaves on paper towel .
6. Serve with Garlic- Mayonnaise Dip