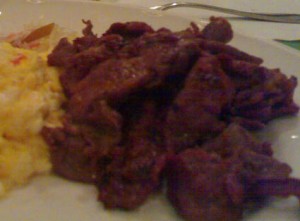 Nothing beats eating tapa for breakfast. With garlic rice and fried egg, it's a breakfast fit for anyone expecting a busy day. My beef tapa recipe is a mixture of pepper and sweetness the way I like my lean and tasty beef tapa to be. Remember to marinate overnight (two days for better absorption) so that the seasonings seep well into the beef slices.
1 kilo beef sirloin, thinly sliced, cut into long strips
1 1/2 Tablespoon + 1/2 teaspoon salt
5 Tablespoon white sugar
2 teaspoon minced garlic (adding more the better)
1 tsp. ground black pepper
2 1/2 tablespoon soy sauce
3 1/2 tablespoon vinegar
1. Mix all ingredients into mixing bowl.
2. Cover and Let stand overnight or two nights in the refrigerator.
3. Depending on the size of your family, apportion the beef slices into plastic bags. In our case, we are a family of four. A pack of 3 plastic bags is enough.
4. Store in freezer for 24 hours before cooking.
I usually add a little water in the kawali and allowing the water to evaporate before frying the beef so that it comes out more tender. Others like their tapa as hard as rock or rubbery but I prefer mine tender to the bite.