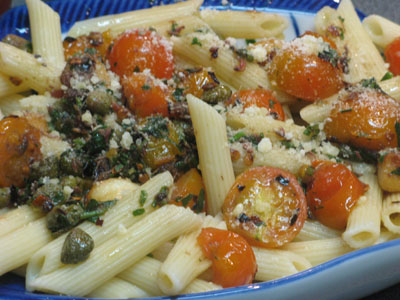 Who says cooking has to be labor-intensive? Preparing filipino dishes can entail so much preparation and if you are feeling lazy, there are alternatives like easy to cook recipes that are just as delicious. I got invited to a Dona Elena Cuisenra Club cooking demo on "Easy to Cook Recipes" at the Podium last saturday with a presentation of 3 easy to cook recipes. Even your teenage kids or siblings can prepare this pasta dish. I have prepared a similar pasta in the past and my kids loved it. This attractive dish can also be great for parties or when you suddenly have surprise guests. You don't need to call fastfood chains to deliver food to your home.
Ingredients
1/4 cup Dona Elena Pure Olive Oil
10 pieces Garlic cloves, peeled
1 Tablespoon Chili flakes (dried)- this is optional if you don't like spicy dishes
20 pieces Dona Elena Anchovy Fillets (you can substitute with spanish sardines)
2 cups Cherry tomatoes, cut in half
1/4 cup Dona Elena Capers, drained.
To taste salt and pepper
250 grams Penne Pasta
for garnish, parsley chopped

Procedure
1. Heat the olive oil in a small pot. Add the garlic and chilies. Cook the garlic until it becomes soft and golden brown.
2. Add the anchovies and stir until the fillets break down.
3. Add the Cherry tomatoes and capers then cook until tender about 5 minutes.
4. Season with salt and pepper to taste.
5. Mix the sauce with the pasta and add a little water if pasta is too dry.
6. Garnish with chopped parsley and parmesan cheese.
Yield: 3 to 4 persons