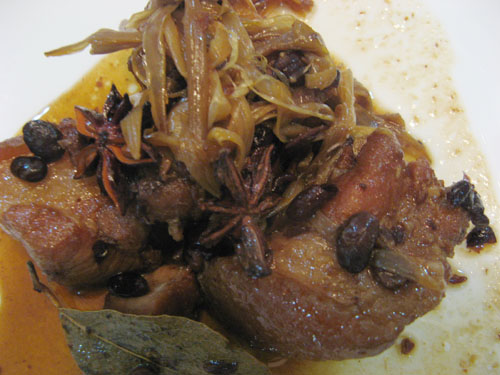 I have been receiving quite a few emails requesting for a Humba recipe. I remember Humba quite well as I grew up eating this tasty dish in my growing years in Cebu. The tausi or black beans created quite a distinct contrast to the sweetness of the pork. It's been quite a while since I cooked Humba. It was actually the readers' emails that inspired me to cook it today for lunch. Let me show you a few emails that inspired me to cook it today.
Samantha : "First of all I think it is really neat to have somebody like you who can help some of the filipinos here in the states who are craving for filipino food but don't have the recipe's on how to cook for their favorite dishes. I am one of those filipinos here in the state. I am from Cebu and I really need a recipe for a good "HUMBA." I remembered my Mama fixed all the times when I was very young then. I tried to cook humba here in the state but there is something missing and I don't know what it is. So, if you can help me I would really appreciate it."
Then a father with three kids wrote "it's just a few days ago that i got back into cooking after several years of buying stuff from the restaurants, fastfoods, carenderia….this time, i had no choice but to give it up since my children (3 of them) are staying with me after spending 2 years with their mom.
i was kinda looking for the recipe for the cebuano "humba". i hope you have it in your list."
This Humba is dedicated most especially to both of you and to all my Cebuano readers who miss Visayan dishes or YOU, if want to try Humba for a change. There are many versions of Humba. In some recipes, the whole pork is cooked first before cutting into serving pieces. In this recipe, we will cut the pork into serving pieces.
Ingredients
1 kilo Pork Pigue (Pork Ham), cut to serving pieces
4 cloves garlic, minced
1 cup water
2 tablespoons brown sugar
1 teaspoon salt
1/2 cup vinegar
1/4 cup soy sauce
1 sprig of oregano
1 bay leaf
2 Star Anise (optional but I love the star anise twist to the Humba flavor)
1 teaspoon pepper corn
3 tablespoons tausi or salted black beans
1/2 cup of banana blossoms (for a nice decorative touch)
Directions
1. Sear the pork cubes in the pan until the sugar has caramelized with the pork. Add garlic and black beans and mix well.
2. Add the remaining ingredients (like vinegar, soy sauce, oregano, bay leaf, and salt ) except banana blossoms together until the pork is tender. It may take 30 minutes or so to make the pork tender so just add a little more water when sauce appears to dry up.
2. Halfway through the cooking, add banana blossoms and continue cooking until tender.
3. Arrange on a platter. Serve hot.
Next time, I will present another version but for now, I hope you like this easy-to-prepare Humba recipe.