Chef Miguel de Alba of the iconic Alba Restorante Español regaled guests with his own take on traditional Spanish cuisine as guest chef of The Maya Kitchen recently. If you are a fan of Alba restaurant, I am sure you are eager to cook one of his Chef Alba's recipes. The Paella de Cordero (Lamb Paella) is quite different. I often prepare Seafood Paella for special occasions so I am intrigued with the Lamb Paella that makes use of mushrooms and bell peppers. Lamb as a paella meat is quite flavorful but then the success of paella also lies in the use of short-grain rice, with its ability to swell and absorb a flavorful liquid. Since I find it difficult to find Spanish short-grain rice, I often buy Japanese rice at the grocery.
Here is the recipe.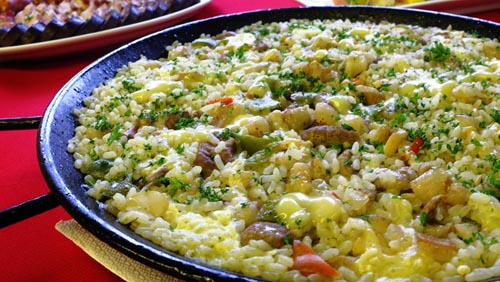 Serves 2
Ingredients:
¼ cup, Olive oil
1 Tbsp., Onion, chopped
1 Tbsp., Garlic, chopped
130 grams, Lamb chops, medium diced
30 grams, Button mushroom, sliced
20 grams, Bell peppers, medium diced
2 cups, Lamb broth
1 cup, Rice
2 Tbsp., Pesto sauce (basil, garlic, olive oil, pine nuts, parmesan)
To taste, Salt and pepper
Serve with Aioli sauce (garlic mayonnaise) or mint jelly
Procedure:
1. Heat olive oil in a paellera pan.
2. Add onions, garlic and cook for 1 minute.
3. Add lamb meat and cook halfway.
4. Add mushrooms and bell peppers.
5. Add broth and bring to a boil.
6. Add rice and keep stirring.
7. Blend in Pesto Sauce and season with salt and pepper.
8. Reduce heat and cover pan with foil and allow to cook for about 15 minutes or until rice is done.
9. Serve with Aioli Sauce or mint jelly.
For more information, log on to www.themayakitchen.com or e-mail [email protected].