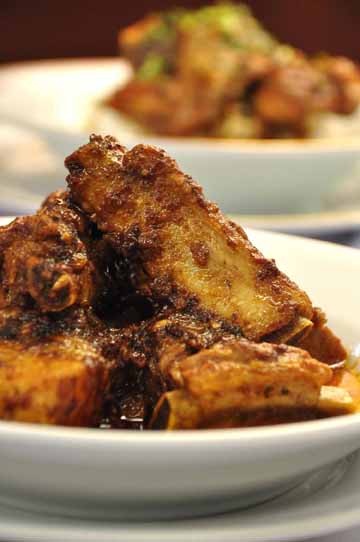 Chef Jill Sandique shared this family recipe at a cooking demo over at the Maya Kitchen. My daughter attended this demo for me since I was at a seminar in Tagaytay. According to Chef Jill, she asked loyal family cook, Carmen "Menchie" Sanchez to teach her this recipe. This recipe, however, is a variation from the original which uses pork chop. Try using lamb chops, too!
Ingredients:
12 to 16 pieces pork spareribs, about 3 kgs. (can substitute for pork chops)
2 tablespoons Lea and Perrins Worcestershire sauce
2/3 cup Heniz Tomato Ketchup
1/2 teaspoon Lea and Perrins Hot Pepper Sauce, or more
3 tablespoons Heniz White or Apple Cider Vinegar
1/2 cup Mayonnaise
3 tablespoons minced garlic
1 large onion, chopped
1 1/2 tablespoons sweet Spanish paprika
2 tablespoons soy sauce, or more
2 tablespoons sugar, or more
3 cups water
salt, to taste

Procedure:
1. Place pork spareribs, Lea and Perrins Worcestershire Sauce, Heinz Tomato Ketchup, Le and Perrins Hot Pepper Sauce, Heinz White or Apple Cider Vinegar and the rest of the ingredients in a pot. Place over high fire and bring to a boil.
2. Cover pot with a lid and lower heat to a simmer.
3. Cook for 40 to 50 minutes, or until meat is fork-tender.
4. Remove lid and simmer for another 8 to 10 minutes, or until the sauce is slightly thickened. Season with salt.
3. Transfer the spareribs to a serving platter. Serve hot.
Yield: 6 to 8 servings
Preparation time: 15 minutes
Cooking time: 40 to 50 minutes
Tip: The dish tastes better when served the next day.