How many of you have eaten the Maliputo fish? I thought I knew all the fish species in the country since I grew up in Cebu, where most of our dishes were seafood. A few months ago, my husband brought home Maliputo, since he came from Batangas. His staff gave him one whole fish.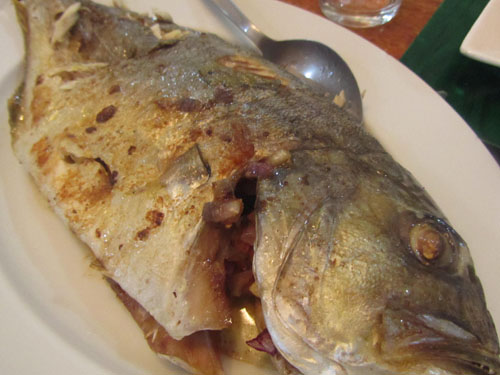 My husband baked the Maliputo without adding salt , pepper , herbs and other spices. He just added chopped onions and tomatoes inside the fish. The taste is divine. It had a slight salty and sweet taste. I asked my husband "are you sure this is a fresh water fish and you didn't place salt?" My husband said that Maliputo is a fresh water fish found only in Taal Lake.
I knew I was missing something. My husband showed me his book, "The Mysteries of Taal" by Thomas Hardgrove written in 1991.
In the book , it talks about Lake Taal's fish including Maliputo.
….include the yellowfin jack, a "freshwater species of mackerel, locally called maliputo. One of maliputo's scientific name is Carnax Ignobilis.

The maliputpo migrate from the lake via the Pansipit Rover to spawn, or lay eggs in the sea, then return to Taal. I have seen Maliputo almost 1 m long at restaurants along the Pansipit River.

Gourmets and Manila restaurants pay a high price for the tasty maliputo (US $10.00 per kilogram in early 1989).

Pauly does not consider maliputo a mackerel. "True mackerel belong like tina to the Scombridae family, " he wrote. "They do not occur in fresh or even brackish, water…Maliputo corresponds to a fish of the family Carangidae, i.e. a horse mackerel, (not a a mackerel) , or jack, or cavalla or pampano.

The marine biologist thinks the early Spaniards confused carangids such as maliputo with tuna.:
So there goes the answer to my question on the salty taste of the Maliputo
Maliputo is comparable in taste and texture to other white-fleshed marine fish like lapu-lapu, pompano and maya-maya. This is usually served in high-brow restaurants and hotels steamed-cook and garnished with various herbs and spices. Caught alive, caranx are much sought after by the Japanese and Chinese restaurants here and abroad, making it another export winner for the country.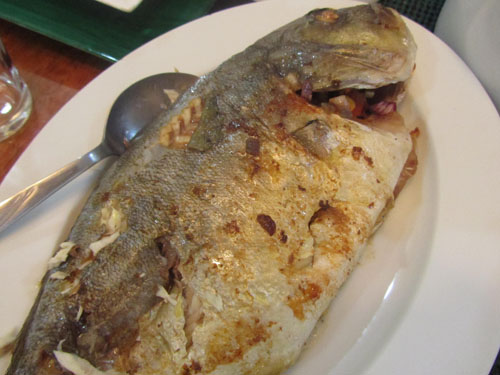 A major scientific breakthrough in aquaculture has been achieved here in the National Fisheries Biological Center (NFBC), a research and extension facility of the Department of Agriculture – Bureau of Fisheries and Aquatic Resources. They were able to develop a method of inducing natural spawning in the matured fish which are very difficult to handle owing to its sensitive nature. The lack of scales in the fish makes it very sensitive to hormonal injection and the slightest removal from the water may also cause sudden death.
Perhaps in the near future, we will be able to have plentiful supply of this tasty fish. The price of Maliputo is pegged at 500 pesos a kilo. Such a rare fish to have on our table. Be careful. Some people sell fake maliputo. The Talakitok is similar to the Maliputo except they are caught in marine waters.