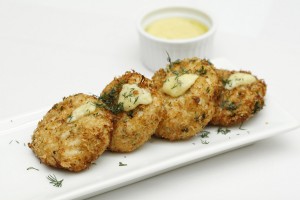 For most Catholics, the Lent seafood diet is strictly observed. Some kids will find seafood dishes unpalatable so I will be sharing some seafood meal ideas from the Maya Kitchen (where I attend monthly demos) who invited experts from Mida Food Distributors Inc., The Seafood Specialist. They shared their knowledge on the proper way to select, clean, store and cook fish, squids, crabs and shellfish. Most often, when I shop at the groceries, I see frozen seafoods but never know how to cook them. One of my favorite is crab meat. I usually prepare it ala Tortang Alimango. This time, there is a variation called the Crabcakes with Aioli Dill Sauce.
Ingredients:
2 eggs
Fresh Parsley
Worcestershire Sauce
1 teaspoon Dijon mustard
2 tablespoons mayonnaise
1 piece lemon & zest
salt & pepper
1 lb Blue Swimming Crab Lump Meat
½ cup normal breadcrumbs
2 cups panko breadcrumbs
half stick butter
for Aioli:
1 piece garlic clove
Sea salt
Black Pepper
1 large egg yolk
1 teaspoon Dijon Mustard
around 600 ml extra virgin olive oil
Lemon Juice & zest
Fresh Dill
Method:
1. Beat eggs in a bowl and add parsley, mustard, Worcestershire sauce, mayonnaise, lemon juice and seasoning. Mix well.
2. Gently fold in crabmeat and normal breadcrumbs until mixture is no longer moist.
3. Gently make 6-8 balls out of the mixture then flatten into thick patties.
4. Lightly coat the patties in panko breadcrumbs and refrigerate for 30 minutes.
5. Fry in butter until golden brown. Squeeze lemon when done.
For Aioli:
1. Smash garlic and salt in a large bowl (or pestle and mortar).
2. Combine with egg yolk and mustard. Mix together.
3. Start adding the olive oil little by little, whisking continuously.
4. Add the lemon juice/zest, and dill.
5. Season to taste.
Mida Food is a direct importer and distributor of frozen seafood products.