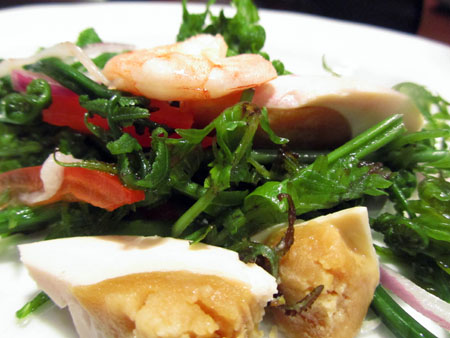 Pako salad is one of my daughter's favorite salad. Pako is a fiddlehead fern similar to the flavors of watercress but not as peppery. It has a slight crisp texture to it which makes it a very interesting salad. Sourcing pako tends to be a challenge so when you find a supply at your local market, grab them the chance.
Ingredients
a bunch of pako leaves, cut to salad-sized portions
2 Tomatoes, diced
2 salted eggs, sliced
2 onions, sliced into rings
2 boiled potatoes,diced
1/4 kilo shrimps, shelled after steaming
Dressing
2 cups vinegar
2 teaspoon sugar or more
1/4 teaspoon pepper
salt to taste
1. Rinse the pako leaves thoroughly. Drain and dry well. Cut the pako into salad sized portions. Use the soft stems of the pako leaves. Discard the stem closest to the roots as these tend to be chewy. Blanch the pako in icy water instead of hot water to keep them crunchy.
2. Arrange pako in serving platter.
3. Top with diced tomatoes, sliced salted eggs, sliced onions, shrimps and diced potatoes.
4. Serve with salad dressing
serves 4 to 6.
Another variation is adding roasted garlic