There are 101 ways to prepare seafood dishes during Lenten season. Here is another way by The Seafood Specialist and Mida Food chef Enrique "Rikks" Valles who demonstrated the recipe.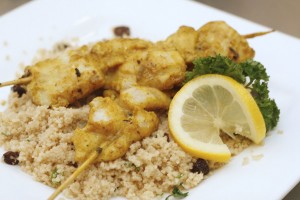 Ingredients:
2 Cream Dory fillets, cut into cubes
1 tablespoon Garam masala, cumin powder, turmeric, curry, nutmeg, coriander seeds, cardamom, cinnamon
1 cup Greek yogurt
1 cup couscous (dry)
1 ½ cups Chicken Stock
handful of raisin
Lemon
Method:
1. Mix yogurt and all dry spices together.
2. Skewer the fish cubes and season with salt & pepper.
3. Pour over yogurt mixture and refrigerate for 30 minutes.
4. Bring chicken stock to a boil.
5. In a large bowl, pour heated stock over couscous mixture.
6. Cover and let it set for 10 minutes.
7. Mix with a fork to ensure couscous is nice and fluffy. Add raisins.
8. Place skewers over a grill on high heat.
9. Serve over couscous.