Since it is the Holy Week, the dishes here at Pinoy Food Blog is all about seafoods thanks to The Maya Kitchen who invited experts from Mida Food Distributors Inc. The Seafood Specialist shared their knowledge on the proper way to select, clean, store and cook fish, squids, crabs and shellfish. This is interesting because most groceries carry frozen seafood that can be easily stored during the ling Holy Week weekend.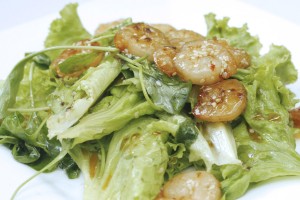 Ingredients:
500 grams peeled prawns
3 tablespoons honey
2 tablespoons sesame seeds
Canola Oil
1 piece Birdseye chili (labuyo)
1 bunch mixed salad leaves & arugula
For vinaigrette:
Raspberry Vinegar
Extra Virgin Olive Oil
Grainy Mustard
Salt & Pepper
Method:
1. Stir fry prawns in oil for 2 minutes. Add chili and sesame seeds, let simmer for 10 seconds.
2. Add honey and mix well. Set aside to cool.
3. Combine raspberry vinegar, mustard and olive oil. Mix well until emulsified. Season. Serve over salad.
For other class schedules, culinary tips and recipes log on to www.themayakitchen.com