Tomorrow is the last day at the groceries before the weekend comes in. As always one of the frozen items I will store is seafood. I should try out this recipe on Pan Grilled Sea Bass with Port Wine Reduction for a change. Healthier cooking technique too. I normally can't take in wine as a drink but I do love it as flavors whether in the main course or as a dessert. For those who stick to Seafood diet during Lent, I am sure the added wine is not too decadent.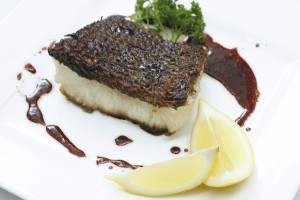 Ingredients:
1 ½ cups Dry red wine (Pinot Noir would be perfect)
1 ½ cups port wine (the expensive the better)
1 whole onion
1 bay leaf
1 carrot
2 pieces Chilean Sea bass Fillet Portion (skin On)
stick of butter
Salt & Pepper
Method:
1. Combine wine, onion, carrots, and bay leaf in a large saucepan over medium heat. Bring to a boil.
2. Let reduce by half, around 45 minutes.
3. Strain sauce and set to room temperature.
4. Heat butter in a pan, high heat. Pan-fry sea bass, skin side down.
5. Turn heat off and flip sea bass for 5 minutes.
6. Take off heat and season.
7. Pour port reduction over and serve.
For other class schedules, culinary tips and recipes log on to www.themayakitchen.com