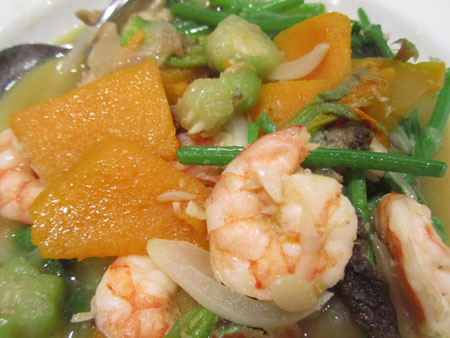 I am not too fond of vegetables but when "gata" or coconut milk/cream and ginger is added, it just gives a tasty flavor to it. "Ginataang Hipon at Gulay " is of course your ordinary simple vegetable fare but adds a touch of color when adobo is served with it. I don't understand why my kids don't like anything with coconut milk in it. They would rather eat "adobong sitaw" or anything laced with soy sauce.
Here is a recipe which I tweaked from Del Monte Kitchenomics, as I don't really follow a set procedure.
Ingredients
1/2 cup water
a bundle of kamote tops and leaves
1 small green papaya, sliced
Sitaw
Kalabasa
2 siling haba, sliced
thumb sized ginger cut in strips
2 onions, sliced
1 garlic, crushed
1 can coconut milk or you can prepare your own coconut milk
1/4 kilo shrimps, shelled
salt to taste
Directions
1. Mix all together garlic, onion, ginger strips and siling , coconut milk, haba.
2. Simmer for 5 minutes and mix occasionally.
3. Add papaya and water. Season salt to taste. Cook for 10 minutes.
3. Then add shrimps , kalabasa , sitaw , kamote tops, and leaves. Simmer for 5 more minutes or until cooked.
There you have it. A touch of color and dash of flavors.