Here is another kebab recipe from Indian cuisine expert Kanchan Sandhwani who shared this recipe at a cooking demo at the Maya Kitchen. I know this is not the usual Pinoy fare but then you might want a variation from time to time.
Chicken breasts 4 (800 gms.)
Green chillies 4 – 6
Ginger 1 inch piece
Garlic 5-6 cloves
Yoghurt 2/3 cup
Processed cheese (grated) 1/4 cup
Fresh Cream 1/4 cup
Nutmeg or Cinnamon Powder 1/4 tsp.
Garam masala 2 tsps.
Honey 1 tsp.
Lemon Juice 1/2 tsp.
Butter 1/4 cup
Salt to taste

Directions
1. Clean, skin, de-bone and cut each breast into two.
2. Remove stems and wash green chillies.
3. Wash and peel ginger and garlic. Grind green chillies, ginger and garlic into a smooth paste. Coat chicken pieces with paste. Cover and set aside for 15 mins.
4. Hang yoghurt in a muslin cloth for half and hour and drain away the whey.
5. Mix thickened yoghurt, cheese, cream, nutmeg powder, garam masala, honey, lemon juice and salt to taste. Whisk ingredients well and marinate chicken pieces in this for 3 hours in a refrigerator.
6. Place chicken pieces, an inch apart on wire rack.
7. Cook chicken in grill for 20 minutes brushing with butter every 5 minutes.
8. Serve hot with chutney of your choice.
Note: You can serve kebabs with a choice of garlic sauce, green chutney, chili sauce and also with a salad of cubed cucumber, tomato and parsley.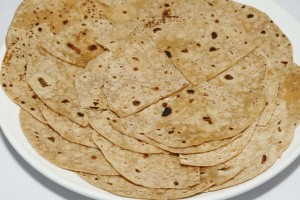 SAFFRON RICE
1 cup Basmati rice
1 ½ cup water
Pinch of saffron
1T canola oil
½ tsp turmeric powder
½ tsp iodized salt
Cook in pot until done. Stir with spoon near the end of cooking process.
If using rice cooker, watch that rice is not overcooked.
CHAPATTI
Combine 1 cup brown flour and water to form a dough.
On a flat surface, form round chapatti cakes with a rolling pin.
Cook on a tivo or cast iron pan for a few seconds per side.
Drizzle canola oil on each chapatti to toast and to achieve soft texture.
Serve flat or fold into four.