When I think of Chicken Macaroni salad, I remember myself as a teenager, assigned by mom as the salad maker. This is such a childhood memory. I stopped preparing Chicken Macaroni salad when I became a mother , simply because I thought my kids and my husband would not like it. It is so old-school. A few years ago, I decided to bring it back to the table when I had a lot of left-over turkey. Well, turkey is not exactly like Chicken but it surely tastes like one. To my surprise, my husband loved it so much . He said it reminded him also of his childhood. His mother also prepared Chicken Macaroni salad. See, it is such a classic. This Christmas, I prepared Chicken Macaroni Salad. It was such a hit that it soon got consumed by family members and relatives. You can also serve this during fiestas, parties and picnics, either as snack or main dish.
Chicken macaroni salad is so easy to prepare. Salt, pepper will depend on your taste. You can also use different types of short pasta.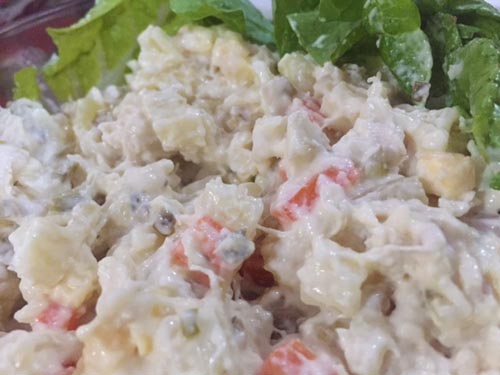 Ingredients
400 grams salad macaroni, cooked (check package for cooking instructions)
1 kilo boneless chicken breast, boiled and cubed
1 1/2 cup pineapple tidbits, drained
1 1/2 cup Queso de bola, cubed
1 cup pickle relish
1 cup diced carrots, previously boiled
2 cups mayonnaise (you can also use reduced fat mayonnaise)
1/4 teaspoon garlic powder
1 teaspoon white pepper
1 teaspoon salt

Directions
1. Boil the salad macaroni as directed in the package
2. Place the macaroni in a large mixing bowl.
3. Add the carrots, pickle relish, diced queso de bola and pineapple tidbits. Mix well.
4. Lastly, add the diced chicken and mix well.
5. Mix the mayonnaise into the mixture.
6. Add garlic powder, salt and pepper to taste
7. Chill.