I was at first skeptical about using US frozen potatoes as part of my menudo recipe.  I thought the potatoes would turn soggy after I mixed them in with the rest of the ingredients. I was very happy at how my Everyday Menudo turned out. You might ask "US frozen potatoes"?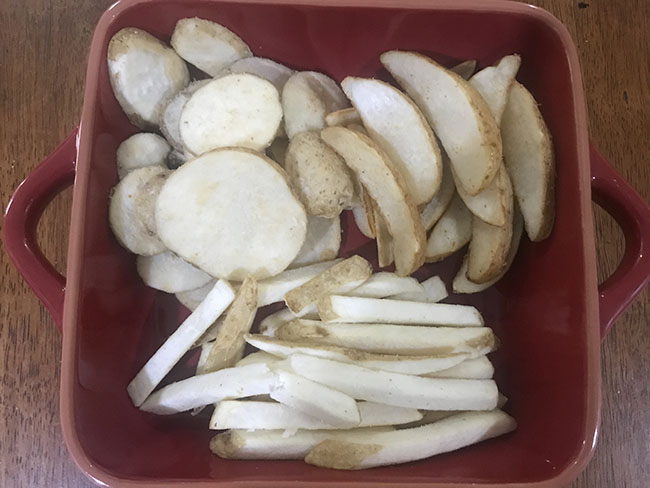 But why US potatoes?
Did you know that potatoes provide the carbohydrate, potassium and energy you need to perform at your best? Potatoes are more energy-packed than any other popular vegetable and have even more potassium than a banana. The US potatoes are quick-frozen to lock in the flavor and nutrients of fresh potatoes.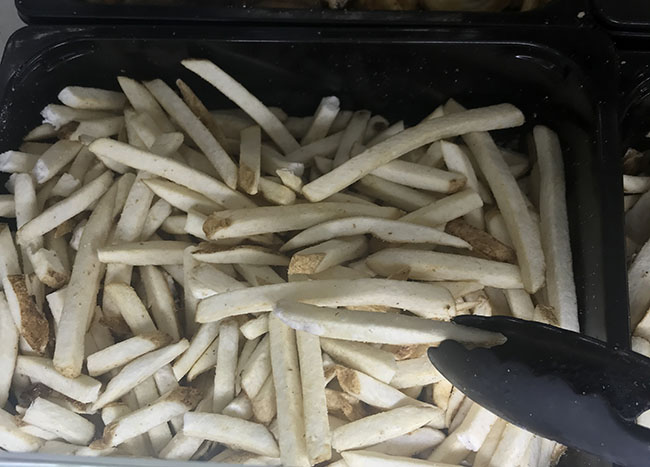 I stock on US frozen potatoes as garnish for my dishes but I decided to try them out as an ingredient in my everyday menudo. Peeling potatoes and cutting them up can be time consuming if one has to prepare and cook a dish in 30 minutes.
Menudo has been a mainstay at any Filipino dinner table so I thought I would try it with US frozen potatoes.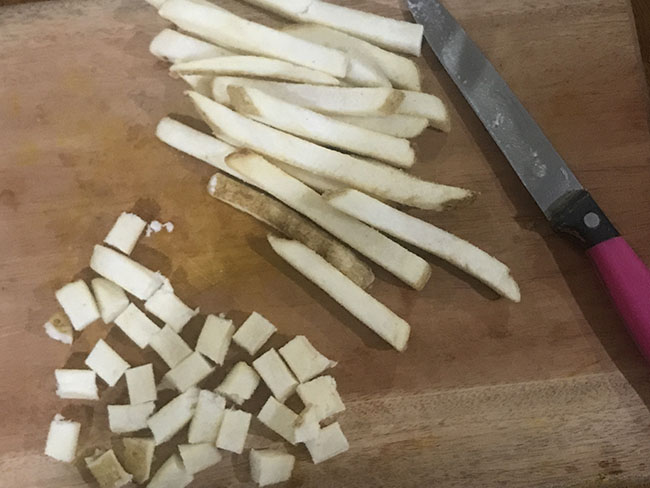 INGREDIENTS:
500 grams pork kasim or pigue, washed and drained
250 grams pork liver, washed and drained
1½ teaspoons Worcestershire Sauce
1½ teaspoons calamansi juice
1/8 teaspoon ground black pepper
3 tablespoons cooking oil
1 large onion, chopped
3 cloves garlic, minced
2 medium-sized tomatoes, chopped
1 small red bell pepper, diced
2 teaspoons soy sauce
1 teaspoon patis, optional
2 ½ cups water
1 cup cubed potatoes (US Potatoes – French Fries)
1 small can green peas, drained (about 155 grams)
salt and ground black pepper, to taste
sugar, optional
PROCEDURE:
Cut pork kasim (or pigue) and liver into ¾-inch cubes. Place in a bowl and add the Lea and Perrins Worcestershire Sauce, calamansi juice and black pepper. Set aside for a few minutes.
Pour the cooking oil into a sauté pan or wok. Place pan over medium-high heat then sauté the onion until transparent. Add the garlic and cook until aromatic. Add the tomatoes and sauté for another 3 to 5 minutes.
Stir in the pork kasim (or pigue) and liver. Cook until lightly browned. Add the red bell pepper, soy sauce and patis, if desired. Sauté for 2 to 3 minutes then add the water. Bring to a boil then lower heat to a simmer. Cook until meat is tender. Stir in the green peas. Add the US potatoes and simmer until done. Season with salt, black pepper and sugar, if desired. Serve hot.
Yield: 3 to 4 servings
This rich dish of cubed pork, liver, US potatoes, with a tomato base comes in as many variations as there are ingredients available to the adventurous cook. So, try it and let me know how it was.
You can buy US frozen potatoes at SM Supermarkets, Rustans, Pioneer Centre, Shopwise and Duty Free or visit the facebook page of Potatoes USA-Philippines. Check out other recipes using US potatoes.