Potatoes are always part of my meal plan whether it is for breakfast, lunch or dinner but sometimes peeling potatoes can be time consuming. I keep a stock of US frozen potatoes for those days when I have to prepare quickly for our family meals. Did you know US frozen potatoes come in different variety and are easily available in leading supermarkets nationwide? Some of the cuts available are frozen half shells, wedges, slices, straight cuts, crinkle cuts, loop/curly or popularly known as twister fries, lattice/basket weave, tater tots, and hash browns. I discovered a freezer of some of these varieties at the SM Marikina supermarket.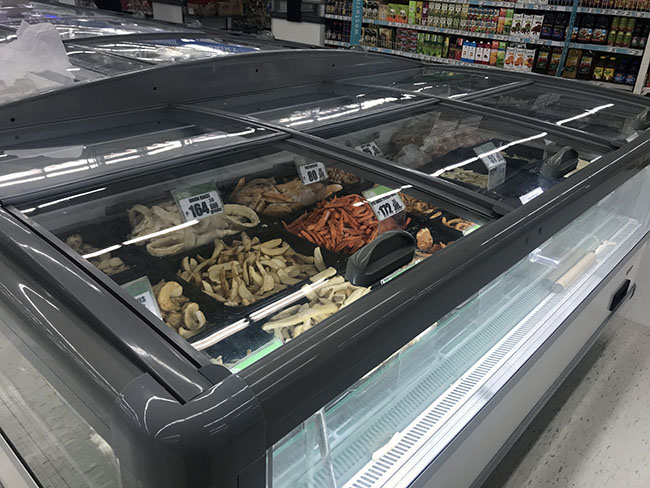 Allow me to explain more on why I have so much faith in US frozen Potatoes. I discovered that U.S. processing plants use state-of-the-art technology to meet high industry standards. The finished product is instantly quick-frozen to lock in the flavor and nutrients of fresh potatoes. This is good to know because potatoes provide an excellent source of vitamin C, potassium (more than a banana!), vitamin B6 and it is fat, sodium, and cholesterol-free.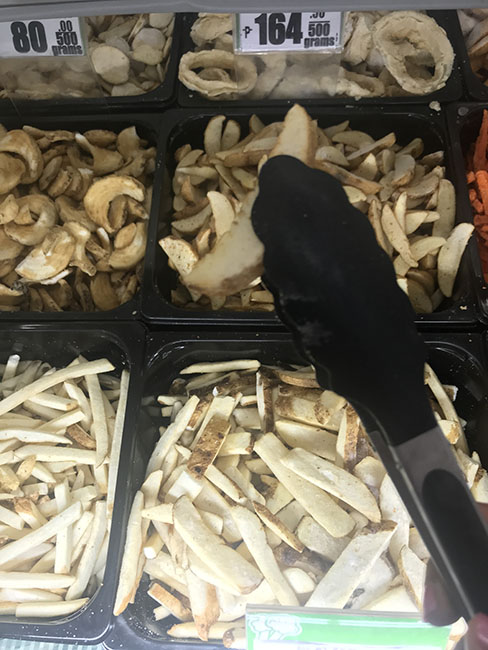 Now to ensure food safety, every U.S. potato processor meets stringent requirements of the United States Department of Agriculture (USDA) and the United States Food and Drug Administration (FDA). The quality of the final frozen product is further assured by government standards. It is reassuring to know that the United States is the only country in the world with mandatory USDA Grading Standards for frozen potatoes.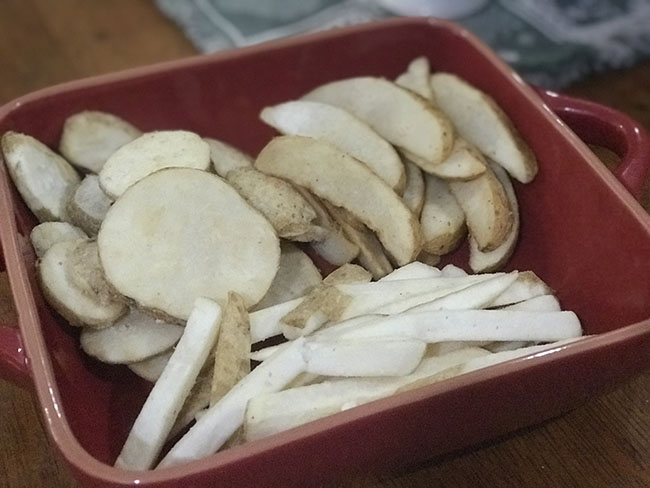 The US frozen potatoes I bought can be cooked on their own  but you can also use them as an ingredient for your meals. Let me share five recipes where I use US frozen potatoes: Pitsu, Hearty Patatas Riojana, Beef Pochero, Clam Chowder and Crab Omelet. I used US Frozen French fries or  Potato wedges as an ingredient in each of these recipes.
 Pitsu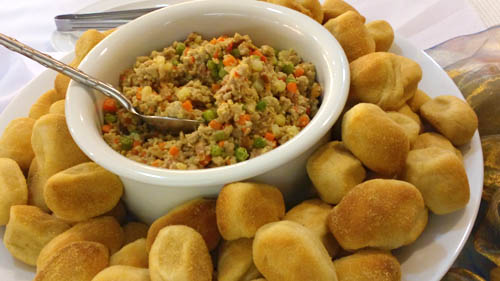 Pitsu  is a traditional Pampango morning special occasion dish. You can also call it an "over the top Picadillo". The difference with the Pitsu is that beaten eggs are added to the "picadillo" mixture and then added with chorizo, potatoes and parmesan cheese.
Ingredients:
2 tablespoons oil or use lard from Chorizo
2 tablespoons minced garlic
1/4 cup chopped onion
1 kilo lean ground pork
1 can chorizo, sliced into 1/4 inches coins
1 cup diced potatoes (Cut US frozen French Fries) 
2 pieces red bell pepper, pitted and chopped
1 cup frozen green peas
1/2 cup butter
4 large eggs, beaten
Parmesan cheese to sprinkle pan de sal
Procedure
Heat pan and add oil. Sauté garlic and onion , add ground pork and continue to cook for 10 minutes.
Add chorizo and diced potatoes. Continue cooking for another 10 minutes.
Then add bell pepper, green peas and diced US frozen straight cut fries.
Add butter when melted. Add the beaten eggs and mix well.
Sprinkle with grated parmesan cheese just before serving.
 Serve with pan de sal.
Hearty Patatas Riojana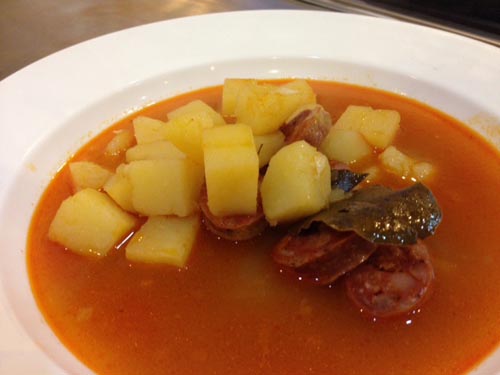 A hearty soup dish which can be a meal in itself. The best thing about this recipe is its simplicity. Everything is cooked in one pot, and can be done in under 30 minutes. Using US frozen Potato wedges cuts the 15 minutes of preparation time of peeling and dicing to less than 5 minutes. You will certainly love each chunk of potato with its sweet, smoky aroma from the Spanish chorizo.
Ingredients
3 Tablespoons Olive oil
1/3 cup chopped white onions
1 Tablespoon chopped garlic
2 pieces chorizo , sliced 1-inch pieces (steam first , chill then slice, )
1 Tablespoon paprika (smoked paprika or pimentón which you can buy in gourmet stores)
2 pieces Bay leaf
¼ cup white wine (dry)
600 grams potatoes, peeled and cut into large chunks (cut one inch chunks from US frozen Potato wedges )
1.5 liters flavorful chicken stock, bring to a summer separately
1 teaspoon ground white paper
to taste – sea salt
Procedure
In a pot, warm the olive oil and add the onions. Cook over medium heat until the onions are soft. Add the garlic and the chorizos. Render some of the fat from the chorizos.
Add the paprika and bay leaf. Cook for a few moments and then add the rest of the ingredients including the cubed US potato.
Taste and adjust seasoning. Lightly mash the potatoes with a ladle. This will add texture to the soup.
Serve hot.
Beef Pochero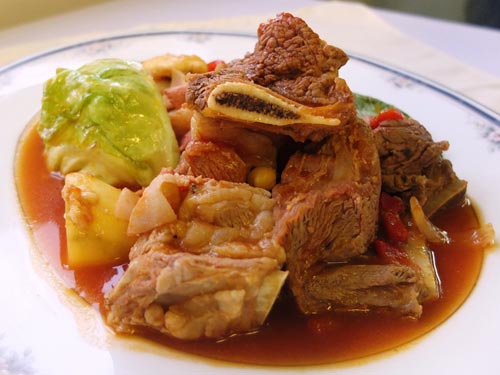 A popular dish in my blog is my version of Beef Pochero aka Cocido which is mainly a Noche Buena dish. It makes use of left-over ham from the Christmas celebration. Growing up in Cebu, I recall my mother adding saba . Whole firm Saba bananas are boiled together in the broth.
Ingredients:
3 pieces ripe saba bananas; 2 cut in thirds lengthwise, 1 left whole
oil for sautéing
1 piece red onion, finely chopped
2 pieces medium white onion, peeled whole
3 cloves garlic, minced
1/2 cup thick cut bacon, cubed
1 can chopped pimientos, small
1 can diced tomatoes, drained
5 cup beef broth
1/2 kilo beef kalitiran
1/2 kilo beef ribs (with fat)
1 cup tomato paste
2 pieces chorizo bilbao, thinly sliced
1 cup US Frozen Potato wedges (each wedge cut in half)
1 piece medium cabbage, quartered
1 bunch pechay
1 cup cooked garbanzo beans
patis, salt, pepper to taste
Procedure
In a pressure cooker, fry banana slices until golden and crispy then set aside.
Heat oil and sauté chopped onion, garlic, Bacon, pimiento and tomatoes then add broth.
Add beef cuts and whole saba and cook until tender (About 40 mins in a pressure cooker).
Remove saba and mash it on the bottom of serving platter.
Remove beef and place on mashed saba. Add tomato paste, chorizo, US potatoes, cabbage, pechay and garbanzos to broth.
Cook until veggies are done. Move veggies to serving platter.
Season broth with salt, pepper and patis.
Boil broth uncovered until reduced by 1/4. Ladle hot soup onto beef and veggies.
Arrange fried bananas on top. Serve with hot rice.
Clam Chowder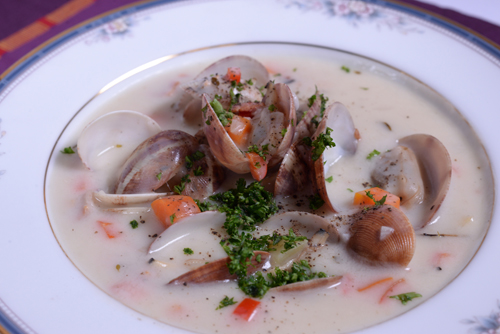 My family loves Clam Chowder and it is perfect for those cold rainy days. There are so many variants of Clam Chowder.  In the United States, "New England-style" clam chowder is often characterized as being thicker and  creamier, even though traditionally it is rather thin (with many late 19th and early 20th century recipes using condensed milk as the base). This Clam Chowder does not use a lot of milk and instead uses sour cream with the flour to thicken. Of course, I just had to add US potatoes to this soup dish to make it a complete meal.
 Ingredients (serves 4)
2 cloves garlic minced
1 kg clams
4 tablespoons olive oil
1 cup white wine
4 strips bacon, chopped
40g (1/4 cup) All Purpose Flour
2 sprigs fresh thyme
1 bay leaf
1 L (4 cups) fish stock
1 cup cubed US Frozen potatoes
1 cup cubed carrots
1/2 cup cubed red pepper
salt and pepper to taste
sour cream to taste
chopped parsley
Directions:
1. In a pot, sauté garlic and clams in 2 tablespoons of olive oil for one minute. Pour in white wine and let clams steam until they open.
2. Remove meat from clams and save the liquid.
3. In a new pot, sauté the bacon in the remaining 2 tablespoons olive oil until fragrant but not crispy. Add in flour, herbs and cook until a paste is formed.
4. Pour in cooking liquid from clams and fish stock and stir well to break up any lumps.
5. Simmer for 30 minutes.
6. Add in the cubed vegetable and simmer until cooked. Finally add the diced US frozen Potatoes. Season with salt and pepper.
7. Serve the soup with clam meat and sour cream as garnish. Top with chopped parsley as well.
Crab Omelet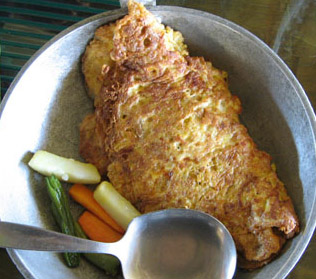 Crab Omelet is one my favorite omelet dish. With crab meat available in the groceries, it's easier to prepare now. My mom used to prepare this by boiling the crabs and flaking the crab meat. The top shell is saved for filling in the crab meat but this recipe is just plain crab omelet or tortang alimasag. A very simple dish with diced US potatoes for a more filling dish.
Ingredients
1 cup flaked crab meat (you can buy this at the frozen section of the grocery)
1 tablespoon soy sauce
1 tablespoon constarch
1/4 teaspoon ground black pepper
1/2 teaspoon refined salt
2 tablespoons oil
1/4 cup shredded onions
6 cloves garlic, crushed
1 cup finely diced US frozen potatoes (french fries or wedges)
1/4 cup shredded celery
5 eggs
Directions
Beat eggs slightly and season with salt and pepper.
Beat all ingredients together. Set aside.
3. Heat wok then add oil.
4. Fry potatoes and set aside.
5. Sauté garlic until brown then add vegetables, then add crab meat, salt, soy sauce, pepper and cornstarch. Set Aside to cool.
6. Heat non-stock frying pan in preparation for the omelet.
7. Pour in beaten eggs and cook. You will know the egg has cooked enough to proceed when the egg whites have actually turned white, the bottom is set and the top is a bit creamy.
8. When the crispy transparent egg edges start to pull away from the pan, this is the time to add the crab mixture.
9. Put your crab mixture in the omelet on one side only, in a half moon shape so it is easy to fold. Leave a little space around the omelet so the crab mixture won't spill out of the sides.
10. Then fold the omelet in half. Use your spatula to left the omelet gently out of your pan and let it slide to a plate.
You can also check out my Everyday Menudo using US Frozen Potatoes. There you have it. Let me know how your cooking turned out.  Enjoy.
You can buy US frozen potatoes at SM Supermarkets, Rustans, Pioneer Centre, Shopwise and Duty Free or visit the facebook page of Potatoes USA-Philippines. Check out other recipes using US potatoes.