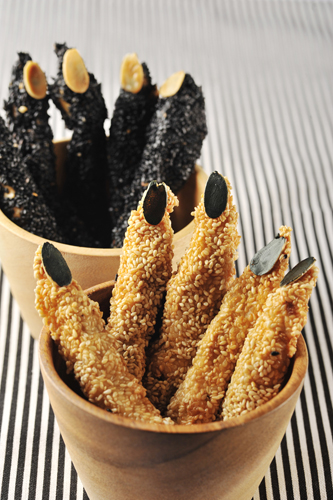 Want a dish for Halloween day. Try this Savory chicken and fish fingers to get the gross treatment to become spooky Halloween treats.
250 grams chicken breast fillet, cleaned and sliced into big strips
250 grams fish fillet, sliced into big strips
juice of one lemon
½ teaspoon Spanish paprika
salt and pepper to taste
¾ cup MAYA All-Purpose Flour,
1-2 pieces beaten eggs
plain sesame seeds, as needed
black sesame seeds, as needed
1 piece beaten egg white
almond flakes, as needed
oil for frying
Procedure:
1. Put chicken in a bowl.
2. Squeeze half of lemon and season with paprika, salt and pepper.
3. Dredge breast fillet in flour and dip into the beaten eggs and roll into the sesame seeds to resemble monster fingers.
4. Do the same procedure with the fish fillet. Once breading is done, use beaten egg white to attach the almond flakes on the edge of each breaded fingers to resemble monster nail.
5. Chill chicken and fish fingers for at least 10 to 15 minutes to firm up the breading and the almonds.
6. Heat enough oil for frying. Fry chicken and fish fingers until cooked. Serve.
Yield: 6-8 servings
For more recipes, other culinary ideas and course schedule, log on to www.themayakitchen.com.