I was really excited to be part of a Cheesemaking workshop. The California Milk Advisory Board (CMAB), an instrumentality of the California Department of Food and Agriculture, held a cheese forum to educate Filipino cooks on the different kinds of California cheeses.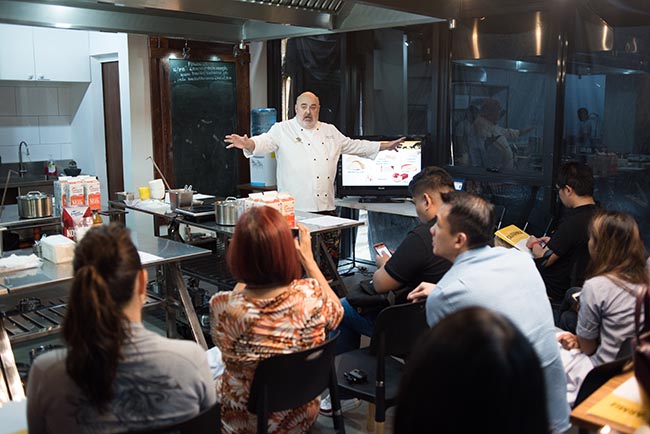 "The Cheese Dude" Mark Todd, cheese expert and consultant for respected dairy organizations in America, headed the forum and was gracious enough to teach us how to make cheese. But first , Mark made us appreciate all types of cheeses. He discussed the uniqueness of different types of California cheeses – from soft and soft ripened, semi-hard, hard, to Hispanic. He also taught guests how they can recreate these cheeses at home using Real California Milk.
Whole Milk ricotta and Queso blanco are some of the cheese products you can recreate using Real California Milk. My team prepared the Ricotta while another team did the Queso blanco.
Ricotta is a simple, fresh cheese that takes little time to make. It is best when used within a few days
while its flavor is bright and the texture is still moist and creamy. Traditionally, ricotta is made by
reheating whey (ricotta means cooked in Italian) after making other cheeses though it takes a fair amount
of whey to yield a usable amount of ricotta. This home-crafted formula using whole milk and citric acid is
very basic. If you like an even richer and creamier ricotta, try making it with heavy cream exclusively. If
you don't have citric acid, use lemon juice to coagulate.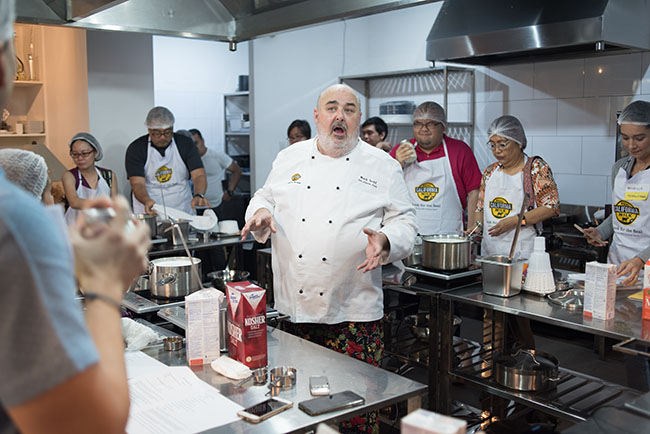 Milk: raw or pasteurized whole cow's milk
Alternative Milk: pasteurized goat's milk or raw goat's milk, if you have a reliable source
Start to Finish:
Making the cheese: 1 hour
Draining the cheese: 20-30 minutes or until desired consistency is reached
Equipment & Supplies:
Non-reactive heavy core bottom 6-quart stock pot
Instant-read or dairy thermometer
Flexible wire, long handle stainless steel whisk
Food- grade flexible blade rubber spatula
Mesh strainer or colander
Butter muslin
Skimmer
Metal bowl or plastic bucket as sink
Wooden spoon for hanging cheese
Yield: 1 pound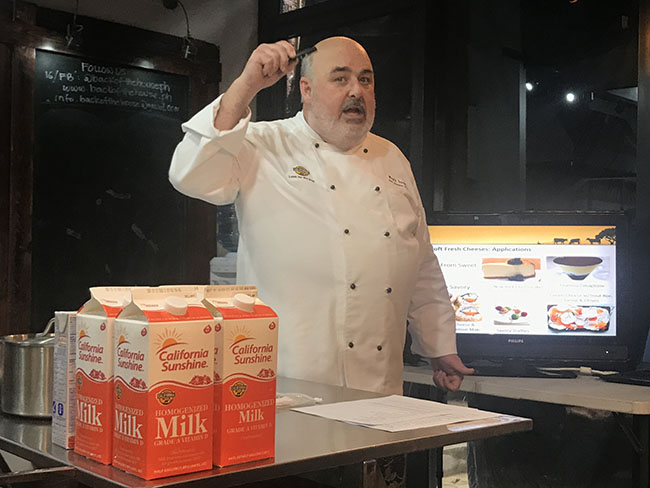 Ingredients:
1 gallon pasteurized whole cow's milk, at room temperature (We used the brand Califorina Sunshine brand)
1/2 cup heavy cream (no fillers or stabilizers)
1 teaspoon citric acid powder
1 teaspoon kosher salt
Whole Milk Ricotta Steps: (italics are my notes)
Watch the video first so you have an idea on the steps needed.
1- Combine the room-temperature milk, cream, citric acid, and salt, then combine thoroughly with a
whisk; using the up and down method. NOTE: If a moist, plump curd is desired, first heat the milks to 180 degrees, and then add the citric acid. Add the salt when draining the curds.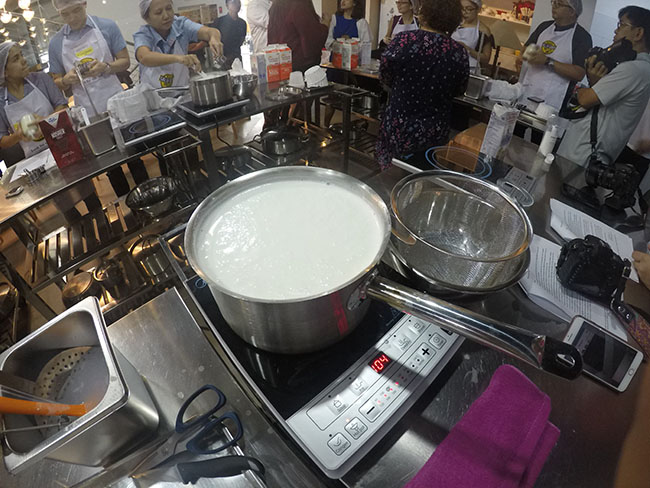 2- Place in the non-reactive pot and over medium-low heat; slowly heat the milk to 185-195 degrees F.
This will take about 15-20 minutes.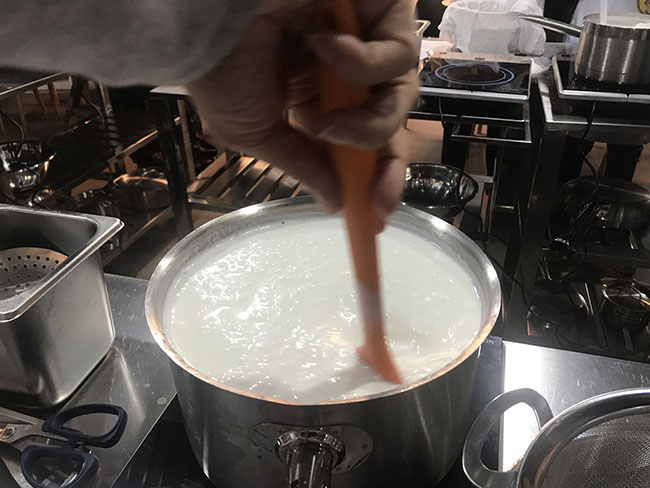 Stir frequently with a flexible rubber spatula to prevent scorching. As the milk reaches around 150 degrees, you will see the curds start to form. (Make sure that the temperature does not climb too fast within the 15 minute period. Lower the temperature when this happens)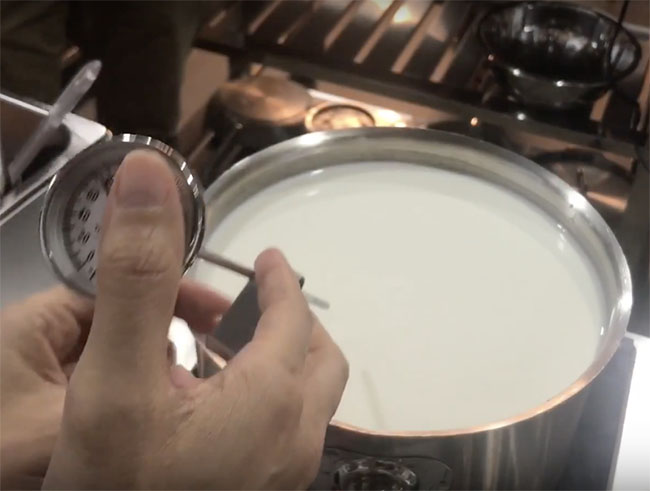 3- As temperature gets closer to 185-195 degrees the curds and whey will show a dramatic separation. The whey will be yellowish-green and just slightly cloudy. If the whey is too cloudy, add a pinch more citric acid and stir down into the whey to cause more curds to form. Turn off heat.
Look at the yellowish green whey.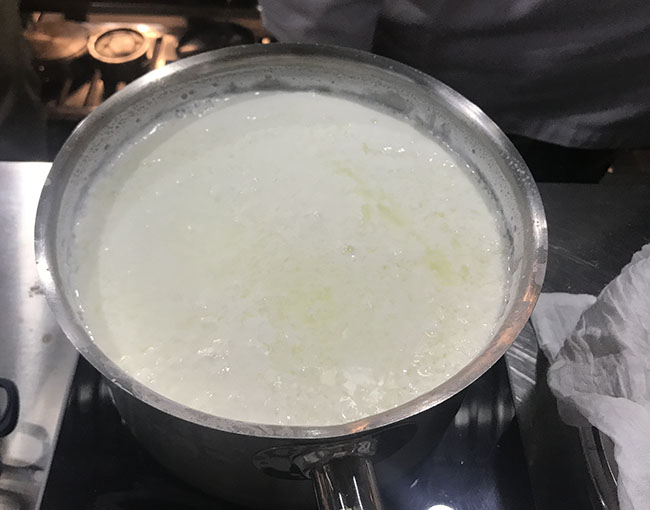 4- Gently run a rubber spatula around the edge of the curds to rotate the mass, and then let the curds set
without disturbing for 10 minutes.
We noticed the curds were not that many so we added 1 1/2 tsp more of the citric acid. Since the bottom was a bit scorched, we used a whisk to misk the citric acid in an up and down motion.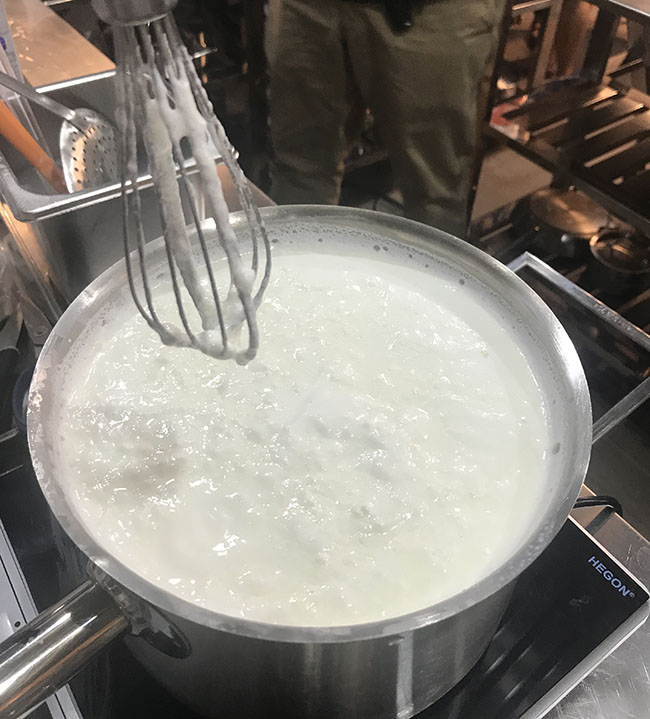 5- Line a colander or strainer with water-dampened butter muslin. Carefully ladle the curds into the
colander being careful not to break up the curds.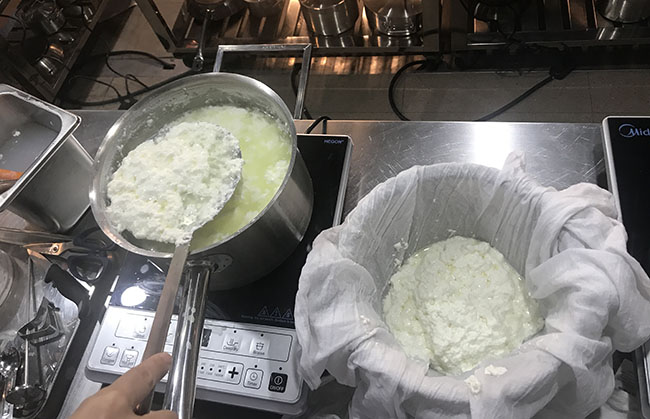 Use a long handle mesh skimmer to capture the last of the curds.
If any curds are stuck to the bottom of the pan, leave them there. You don't want scorched curds flavoring your cheese.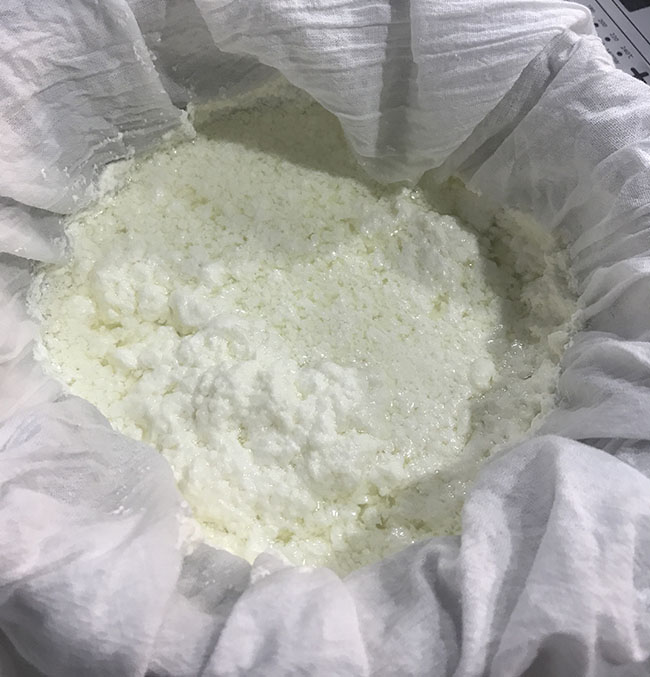 6- Drain for 5 minutes then gently toss the curds with 1 teaspoon kosher salt. Be mindful not to break up
the curds in the process.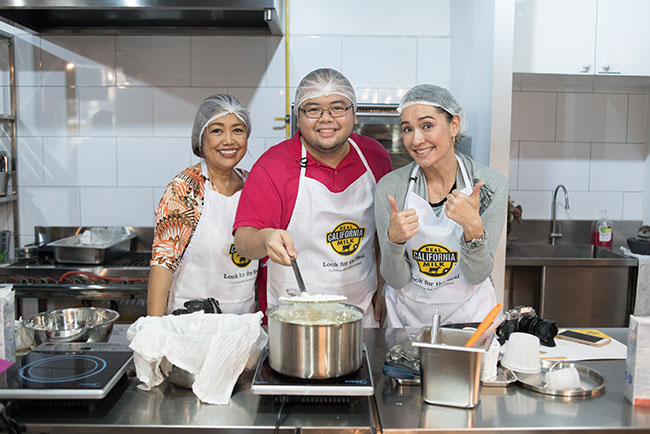 7- Tie two opposite corners of the butter muslin into a knot and repeat with the other two corners. Slip a
dowel or wooden spoon through the knot and then suspend the bag over the whey-catching receptacle.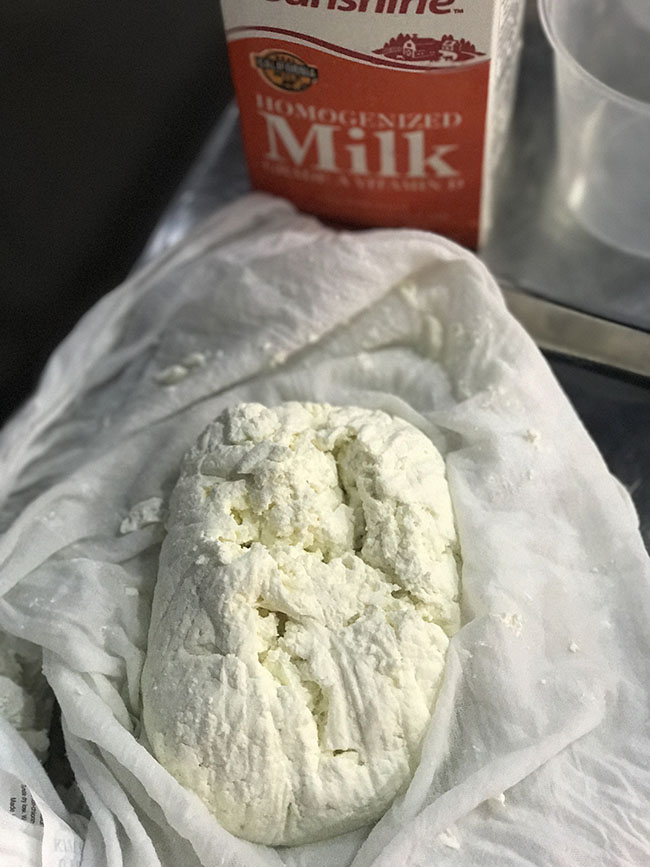 8-Drain the curds for 5-10 minutes or until the desired consistency has been reached. If you want a moist
ricotta, stop draining just as the whey has stopped dripping. If you want it drier, or are using it to make
ricotta salata, let the curds drain for a longer period of time.
9-Transfer the cheese to a lidded container. Cover and store refrigerated for up to 1 week.
I am so happy I get to take home some Ricotta cheese.  I will surely prepare my own ricotta at home.
California dairy products are available in leading supermarkets nationwide such as Rustan's, and Robinsons Supermarket, and SM. To learn more about Real California Milk and other dairy products made with Real California Milk, visit their website at www.realcaliforniamilk.com or their Facebook page at Real California Milk.
Source :Mary Karlin 2010
Artisan Cheese Making at Home
Ten Speed Press
www.artisancheesemakingathome.com