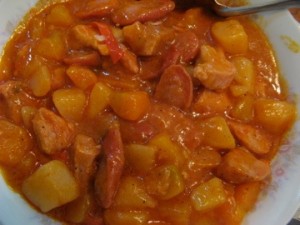 I've avoided simple recipes in this blog simply because I think one can easily get it from other sites. But for the sake of my readers, let me a menudo recipe. Menudo is my husband's favorite dish. Too bad my kids don't really like it. I like my menudo to have some raisins in it but my husband does not want any of it. Here is my recipe
1/2 kilo pork cut in small cubes
2 Tbsps. Oil
2 cloves garlic, crushed
1 onion chopped
1 chorizo bilbao or spanish sausage (sometimes we use hotdog)
1 cup tomato sauce
1 piece red or green pepper
1 cup garbanzos
2 cups broth
2 potatoes, cubed and fried
salt to taste
dash of pepper
1. Fry garlic and onions in hot oil. Saute pork with the garlic and oil.
2. Add chorizo de bilbao and pour in tomato sauce.
3. Drop in garbanzos, pepper and potatoes.
4. Simmer until sauce is of desired consistency.
5. Just before removing from the fire, season with a dash of salt and pepper.