Marian Reyes, a member of the Reyes culinary clan demonstrated at The Maya Kitchen this new dish ('Nilasheng na Manok sa Serbesa') that I have never tried before.
This is another heritage recipe , a recipe of her grandmother, 'Ina' Maria Tancinco. I don't see any similar-sounding recipe online except for the nilaseng na hipon. The only other time I used beer for cooking is for the sauce of our Christmas ham. I know beer can substitute for wine or water in many of your favorite recipes, giving that distinctive flavor. Adding beer to chicken and even pork makes it very flavorful. Beer contains hops and malt . The hop content of beer adds a bit of bitterness and acidity while the malt imparts a very subtle sweetness that complements pork and chicken dishes nicely. There is no need to worry of the alcohol content. Cooking evaporates the alcohol in beer but leaves the flavor
Marian gives other tips in cooking this dish such as using wooden cooking utensils and not to stir the dish at all but just gently move the pan around.
So, try out this recipe on a slow cooker: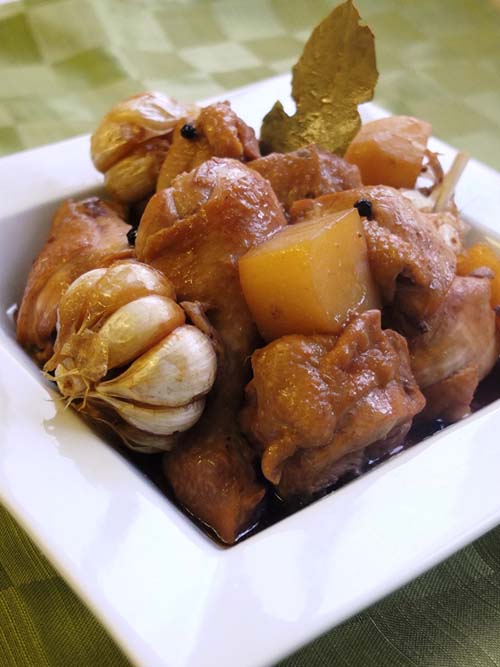 Ingredients:
1 whole chicken, cut up
1 bottle beer
1/2 teaspoon calamansi or dayap juice
16 pieces whole peppercorn
1 piece laurel leaf
1/2 cup soy sauce
dash of brown sugar (for umami)
6-7 pieces shallots or
2 pieces medium sized onions, quartered
Procedure:
1. Combine all ingredients in a thick casserole pot, set on high fire, remove scum, then set on low fire and simmer uncovered until chicken is tender.
2. Use one bottle of beer for every .8 k of chicken
– do not add water
– do not stir but just gently move the pan around
– leave simmering for at least an hour; the dish is cooked when the broth is clear
*potatoes are optional
3. Put in 2 whole, unpeeled garlic cloves. Once cooked, it can be eaten as a spread on bread

For more information, log on to www.themayakitchen.com or [email protected].