Nena Reyes , the family matriarch of the Reyes culinary clan demonstrated Kinulob ng Ina at the Maya Kitchen. The name of the dish is quite intriguing. Looking at the ingredients, you can see it is a chicken dish. From the word kinulob , you get the gist on the cooking method. It is best cooked in our local palayok covered with banana leaves (kinulob sa dahon ng saging). Her daughters Corito and Grace assisted in the preparation dispensing tips as they went along.
I managed to see a similar recipe called "Lola Anday's Chicken Kinulob" but the ingredients vary. My friend , Wyatt Kinulob na Manok as demonstrated by Nancy Lumen.
You will enjoy this flavorful chicken dish as you can tell , banana leaves give out a distinct taste.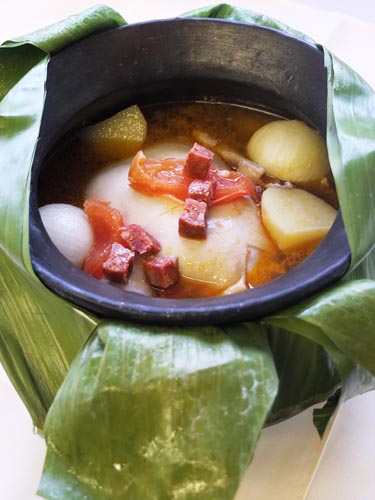 Ingredients
rock salt
1 kilo whole chicken
1-2 pieces Chorizo El Rey, cut diagonally
1 whole white onion
1 piece 3-inch Canadian bacon
2-3 pieces medium potatoes, quartered or left whole
water to cover
some soy sauce
whole peppercorns
salt to taste
banana leaves
string/twine
Procedure
1. Rub chicken with salt, wash well.
2. Line the pot with bacon slices.
3. Place chicken in a big pot.
4. Add all the other ingredients and add water to cover.
5. Season with a little soy sauce.
6. Add peppercorns and a little rock salt.
7. Bring to boil, then lower heat.
8. Cover the pot with 2 layers of banana leaves tied securely with twine around the neck of the pot.
9. Bring to a simmer for about 35 minutes.
10. To check, tear a small piece off the leaves. Check the chicken for doneness.
*Seeded tomatoes are optional
For more information, log on to www.themayakitchen.com or [email protected].