Every family has their own heritage recipe passed down from generation to generation. The women of the Reyes culinary clan shared some of their heritage recipes at The Maya Kitchen recently. Nancy Reyes Lumen, a well known chef, author and TV personality showed how to cook 'Mechado' the Lola Asiang way with tons of over ripe tomatoes and shallots.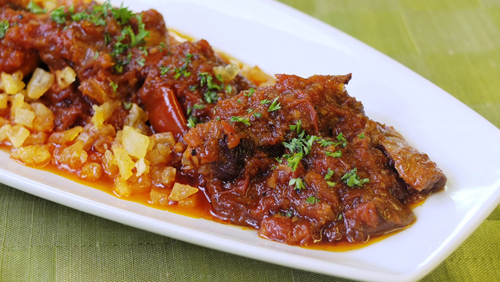 Mechado follows the traditional method of "threading strips of pork back-fat through thick pieces of cheaper lean beef to render them more tender and less dry." It is for that reason that the word mechado from the Spanish mecha meaning wick.
The larded pieces of beef are then marinated in vinegar, soy sauce, calamansi juice, crushed garlic, black pepper and bay leaf, browned quickly on all sides in hot oil or lard, and then slowly braised in its marinade with the addition of soup stock, onion slices, and tomato sauce until tender and the liquid is reduced to a thick flavorful gravy.
The method of cooking Mechado below is different from the Spanish practice but is just as delicious. Try it in your kitchen.
1 kilo kampto (flank), cubed
1 tablespoon each of patis, toyo and vinegar
olive oil, as much as needed (usually 500ml bottle)
½ pack achuete powder
1 ½ kilo shallots, chopped
3 kilos or more of over ripe tomatoes, seeded
500 grams garlic, minced
¼ cup tomato paste
1 finger panocha
Only if needed (depending on how much fat is in the beef):
1-2 cups beef or chicken broth
It is best to use two big pans in cooking this dish.
1. Marinate the beef in patis, toyo and vinegar.
2. Marinate for 4-6 hours.
3. Heat some olive oil and achuete powder to become orange in color.
4. Braise the beef in the oil until dark brown on all sides.
5. In another pan, heat olive oil and achuete powder. Sauté the shallots until very soft.
6. Meanwhile, crush the tomatoes by hand to release juices and skins.
7. Add in the tomatoes and cook until almost like paste and the skins curl.
8. Add the garlic and cook another 10 minutes.
9. Season according to taste.
10. Add tomato paste and beef and the juices.
11.Cook on high until boiling, and then use the smallest flame possible.
12. Cook covered until beef is very tender.
13. Taste and adjust seasonings again: salt and peppercorn.
14. Add in panocha and cover again.
15. Simmer until tender.
*If you want a less thick sauce, add more olive oil or a little broth while cooking.
*Use only very very ripe tomatoes that you can easily crush with your hands. This is what will make it sweet.
*If the tomatoes are not so ripe and soft, and may be a bit acidic, then use the panocha to balance the taste.
*canned tomatoes can be used
*you can cook large batches of sofrito then freeze for future use
For more information, log on to www.themayakitchen.com or [email protected].