I love cooking with Lea Perrins worcestershire sauce and Heinz Catsup. I just discovered the greatness of Heinz Catsup recently when I was invited by Tess Laurente to Maya Kitchen. My love for Heinz Catsup came about when I got introduced to Pork Spareribs with Paprika Tomato Sauce. It was such a hit on the dinner table that it is a mainstay in her our list of frequently cooked dishes. Even as a condiment , I like the perfect balance of sweetness and sourness with a touch of tanginess that is unique to Heinz.
I used to be hesitant in endorsing brands but I found out that it can lead me to better tasting products. Why shouldn't I share the glory to my readers?
I once wrote about Lea & Perrins Worcestershire sauce as a childhood memory in Cebu. When I first shared Lea & Perrins Worcestershire in Twitter, I was amazed at the reaction from two followers. My two friends actually bring Lea & Perrins tuck in their bag or in the car trunk whenever they dine in restaurants just in case they don't serve it. After seeing those anecdotes, I stopped being squeamish about sharing brands.
I am proud to share two recipes from Lea and Perrins and Heinz Catsup. These recipes are old favorites and a little variation maybe something that will interest you.
Take a look at the Juicy Pork Chop Inihaw and Smoked Lumpiang Shanghai recipes.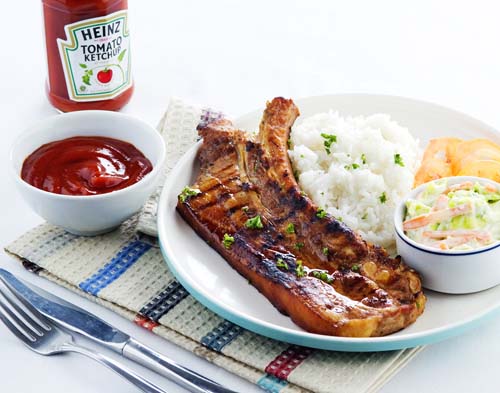 Juicy Pork Chop Inihaw
Preparation time: 1 hour; Cooking time:15 minutes; Serves: 5
Ingredients
5 pcs pork chop
1 Tbsp garlic, crushed
1/2 tsp whole black peppercorn, crushed
1 Tbsp brown sugar
5 Tbsp Lea & Perrins Worcestershire Sauce
10 Tbsp Heinz Tomato Ketchup
10 Tbsp pineapple Juice
1/2 tsp salt
Procedure
1. Marinate pork chops in garlic, crushed black pepper corn, brown sugar, Lea & Perrins Worcestershire Sauce, Heinz Tomato Ketchup, pineapple juice and salt for an hour in the refrigerator.
2. Charbroil till done. Serve with freshly cooked garlic rice and Heinz Tomato Ketchup.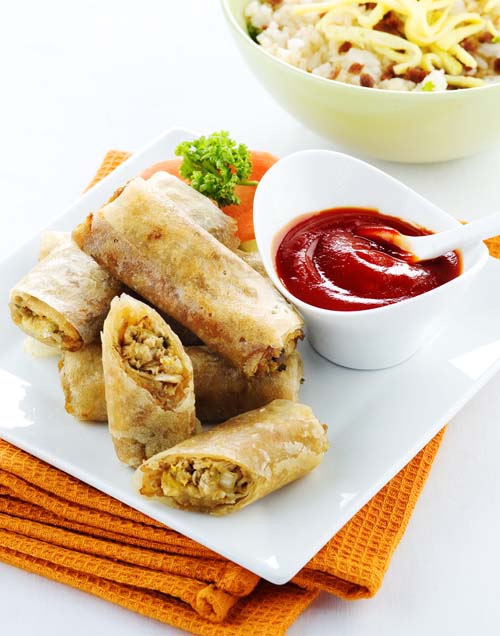 Smoked Lumpiang Shanghai
This is so good with the flavors of smoked bangus and wansoy.
Preparation time: 30 minutes; Cooking time: 30 minutes; Serves: 4-6
Ingredients
2 pcs tinapang bangus, finely shredded
2 medium-sized onions chopped finely
2 Tbsp Lea & Perrins Worcestershire Sauce
1 small bar quick melt cheese, cut into small cubes
1 bunch wansoy, finely chopped
1 pc mango, half-ripe, finely diced
salt and freshly ground black pepper to taste
lumpia wrappers
1 egg white
Procedure
1. Mix first 6 ingredients in a bowl.
2. Place a few tablespoons of mixture into lumpia wrappers and roll.
3. Use egg white as glue for wrapper ends when rolling.
4. Deep fry till golden brown.
Serve with Heinz Tomato Ketchup.
About Heinz Ketchup
Heinz Tomato Ketchup is grown, not made. The brand follows the Seed-to-Table process that demands utmost care and quality control from seeding, growing, processing and delivery of the finished product. It contains no modified starch, no artificial color and flavouring.
Introduced by HenryJohn Heinz in 1876, Heinz Tomato Ketchup has more than 140 years of tomato ketchup making tradition and is now sold in more than 90 countries worldwide. Make sure your family gets only that 'perfect blend, perfect taste' that only Heinz Tomato Ketchup can give.
To know more about Heinz Tomato Ketchup, log on to www.heinz.com
[feedburner name="name"]