Adobo is getting popular in the United States especially with restaurateur Amy Besa making it well-loved dish in New York. She shared this adobo recipe at The Maya Kitchen recently. You will love the thick, rich, dark brown, almost chocolaty sauce and it becomes even richer if you replace half the stock with coconut milk. Who doesn't like coconut milk?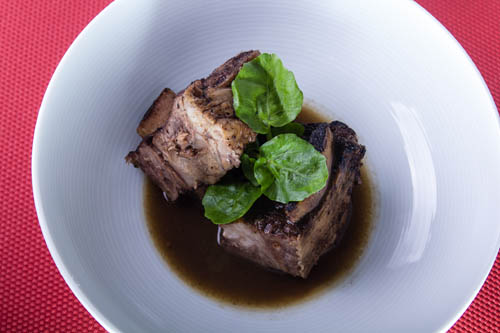 Besa and her husband Chef Romy Dorotan are mainstays of New York's culinary scene with their famous Manhattan restaurant Cendrillon and later on Purple Yam in Brooklyn. They are also the authors of the book Memories of Philippine Kitchens which won the International Association of Culinary Professionals (IACP) 2007 Jane Grigson Award for scholarship in the quality of its research and writing and was also a finalist for the Julia Child First Book Award.
Here is the recipe:
S e r v e s 4
3 tablespoons canola oil
3 pounds beef short ribs, cut into 4 equal pieces
1/2 teaspoon sea salt or kosher salt
1 1/2 teaspoons freshly ground black pepper
2 cups chicken stock or 1 cup chicken stock
plus 1 cup coconut milk
1 cup sherry vinegar or apple cider vinegar
1/2 cup soy sauce
1 head garlic, cloves separated and peeled
3 bay leaves
3 whole birdseye chiles (optional)
1. In a large saucepan over medium-high heat, warm the oil until very hot but not smoking. Season the ribs with the salt and 1/2 teaspoon pepper. Add the ribs to the pan, in batches if necessary, and brown well on all sides, about 3 minutes total.
2. Transfer the ribs to a plate, pour off the oil, and return the ribs to the pan.
3. Add the chicken stock (and coconut milk, if using), vinegar, soy sauce, garlic, bay leaves, remaining 1 teaspoon black pepper, and whole chiles, if using.
4. Bring the mixture to a boil, then reduce the heat and simmer, partially covered, until the meat is tender and falling off the bone, about 1 hour and 20 minutes, skimming off excess fat as you cook.
5. Transfer the ribs to a plate, increase the heat, and reduce the sauce until thickened, 10 to 15 minutes. Discard the bay leaves and chiles. Return the ribs to the sauce or arrange the ribs on a platter and pour the sauce on top.