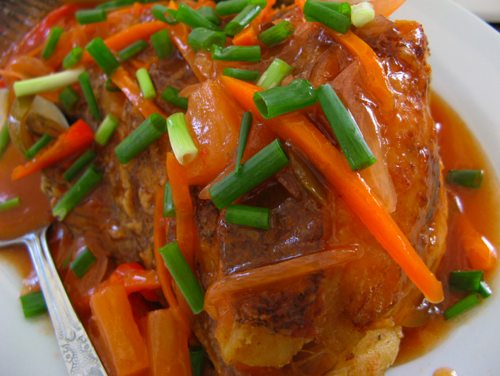 The lapu-lapu is always a special dish. Childhood memories of our family dinner involves a feast of lapu-lapu topped with sweet and sour sauce known
escabeche
. Escabeche has a slight ginger taste to it unlike the Chinese version of sweet and sour sauce. I am not sure if this is a Cebuano version of the sweet and sour sauce because I have not tasted it here in Manila.
Here is how I prepare it:
1. Clean the Lapu-lapu (around 1 kilo), slice diagonally along the fish, then rub salt on it and inside the fish cavity
2. Deep fat fry. (An alternative cooking method is to rub olive oil around the fish, then wrap with foil to grill it ) . Drain in paper towels. Set aside.
3. Prepare the sweet and sour sauce.
1 cup water
3 tablespoons vinegar
6 tablespoons sugar
3 tablespoons tomato ketchup
1/2 teaspoon salt
a slice of ginger, julienne
1/2 head garlic, minced
2 medium-sized onions, cut into 8 pieces
1/2 cup pineapple tidbits
1 carrot, julienne
1 red pepper, julienne
4 green onions, sliced (leave some for garnishing)
2 tomatoes, cut in wedges
2 tablespoons cornstarch, diluted with 2-3 tablespoons water
1. Combine the first 6 ingredients.
2. Thicken with cornstarch mixture (2 tablespoons cornstarch, diluted with 2-3 tablespoons water)
3. Add tomatoes, onions, carrot, tomatoes, garlic, red pepper and the other ingredients. Place pineapple tidbits last
4. Boil once. Make sure the sauce is slightly thickened and not runny.
5. Pour the sauce on fried lapu-lapu (prepared in number 1) and serve immediately. Don't pour the sauce on the fish if you are not ready to eat it. The crispiness of the fish will be gone. You can always set aside the sauce and serve it once everyone is ready to eat.
6. Garnish with green onions.