It was generous of Chef Sau del Rosario to share the recipe of Free-range Chicken Galantina Roulade. We are all familiar with the Chicken Galantina for noche buena but Chef Sau shares something a bit different , the Free-range Chicken Galantina Roulade. It is a festive delight for your dinner table.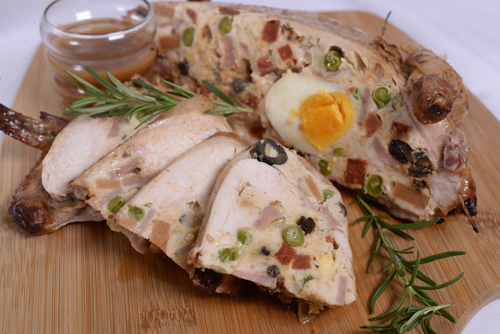 Here is the recipe
Ingredients:
1 kilogram breast or thigh fillet, ground or chopped
¼ kilogram ham, chopped
1 large onion, chopped
½ cup frozen green peas
1 Chorizo de Bilbao, skinned and chopped
1 small can Vienna sausage, chopped
1 cup raisins
½ cup pickle relish
1 ½ teaspoons salt
½ teaspoon chili powder
½ teaspoon freshly ground pepper
4 large eggs
1 cup cubed bread, trimmed
½ cup diced cheddar cheese
½ cup milk
½ cup all-purpose cream
½ cup soft butter
¼ cup capers
¼ cup chopped olives
Bacon slabs/strips for lining the loaf pan
Assorted salad greens to serve as beddings.
Procedure:
Preheat the oven at 350°F. Mix all the ingredients and set aside for 30 minutes.
Line big loaf pans with bacon and pour the mixture into the pan.
Bake for 1 hour and 30 minutes.
Let cool and invert on a bed of salad greens.