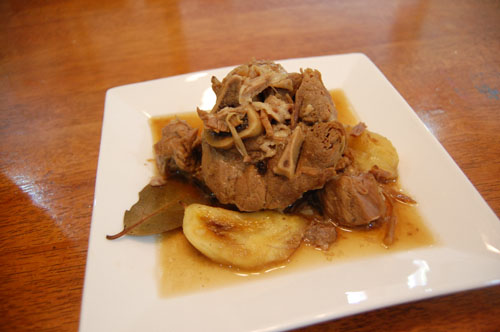 Paksiw na Pata is a simple Pinoy dish that my husband loves to eat on a regular basis. I add saba to the mixture aside from banana blossoms to add more color to the dull brown colors of the Paksiw.
Here is the Paksiw na Pata recipe:
Ingredients
1 large pata or pig's feet (around 1 kilo)
1/2 cup water
1/2 cup vinegar
1/2 head garlic, crushed
1/2 cup soy sauce
1/2 cup brown sugar (reduce if white sugar)
1/2 cup dried banana blossoms soaked in water
1 bay leaf
4 saba bananas, fried
Directions
1. Clean pata throughly. Boil in vinegar, water and garlic. (or you can use the pressure cooker)
2. Lower heat and simmer until pata is tender.
3. Add more water if needed.
4. Put in soy sauce, sugar, dried banana blossons, bay leaf and bananas.
5. Summer 5 minutes more. Serve hot.
It is a simple dish but it deserves to be shown only because I take pride in my helpers.