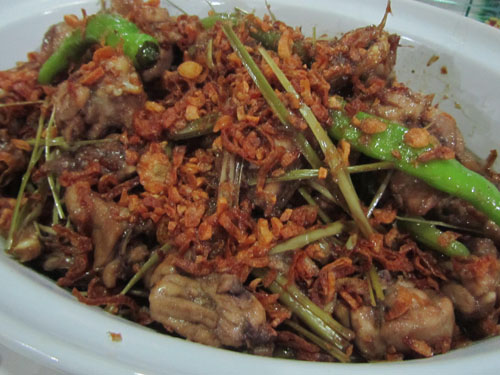 My batchmates at BS Food Technology UP Diliman class 1978 often meet up for mini-reunions. It took quite some time for them to find me and I am glad they did. One of my classmates, Imelda shared this recipe to me. I am just crazy over anything Lemon grass be it Lemon grass lotion, shampoo and especially when added to food! This Chicken Lemon Grass is not necessarily a Filipino dish but tastes very Asian. The sweetness level will actually depend on your taste so just do the necessary adjustment.
The Ingredients:
1/3 cup olive oil
2 cups thinly sliced shallots (sibuyas tagalog)
1 cups sliced lemon grass bulb
2 long chili (or siling mahaba) or siling pangsigang (chili for sinigang), sometimes called finger chili
½ c chopped garlic
1 kg chicken thigh/leg, cut into bite size pieces
2 Tablespoon fish sauce (patis)
4 Tablespoons sugar
Directions
1. Heat up wok and add in olive oil.
2. When oil is starting to get hot, add in shallots and cook until caramelized.
3. Add in lemon grass and Chilies
4. When fragrant, add in chopped garlic and continue to sauté.
5. Add in chicken and cook until it turns golden
6. Season with fish sauce and sugar.
7. Continue to stir until sauce is reduced and chicken pieces are glazed.
8. Transfer to serving platter and garnish as desired.
Notes:
1. If desired, fry shallots until golden in color, drain and set aside. Using the same oil, proceed with the rest of the procedure and add back ½ of the shallots into the chicken, leaving the other half for garnish.
2. Adjust fish sauce and sugar to taste.