Have you heard of Pistu? I only heard of this Pampango dish when Chef Claude Tayag gave a cooking demo at the Maya Kitchen. I am sure you are familiar with Picadillo or Arroz a la cubana . They are all similar to the Pistu but with a variation. Chef Tayag best describes Pitsu as a traditional Pampango morning special occasion dish. You can also call it an "over the top Picadillo". The difference with the Pitsu is that beaten eggs are added to the "picadillo" mixture and then added with chorizo and parmesan cheese. Chef Tayag explained that Pampanga was know for its imported (Px) stores . The Kapampangan found Parmesan cheese and soon added it to their cuisine.
I am very happy to learn this recipe and will soon add this to my breakfast fare. Remember you can replace pork with chicken or tofu. This is such a flexible dish.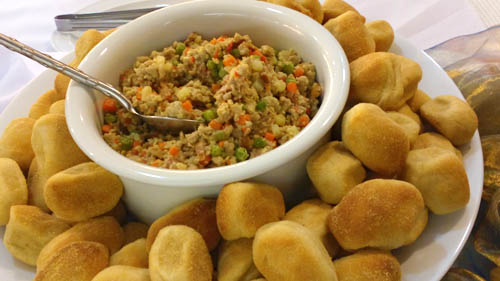 Ingredients:
2 tablespoons oil or use lard from Chorizo
2 tablespoons minced garlic
1/4 cup chopped onion
1 kilo lean ground pork
1 can chorizo, sliced into 1/4 inches coins
2 pieces medium potatoes, cubes
2 pieces red bell pepper, pitted and chopped
1 cup green peas (Use frozen peas not the canned)
1/2 cup butter
4 large eggs, beaten
Parmesan cheese to sprinkle pan de sal
Procedure
1. Heat pan and add oil. Saute garlic and onion , add ground pork and continue to cook for 10 minutes.
2. Add chorizo and potatoes. Continue cooking for another 10 minutes.
3. Then add bell pepper and green peas.
4. Add butter when melted. dd the beaten eggs and mix well.
5. Sprinkle with grated parmesan cheese just before serving.
6.  Serve with pan de sal.