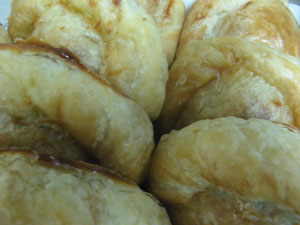 Chicken Empanada is a favorite snack and party fare that I can serve hot or cold. I always thought making empanada was difficult but after baking Apple Pie, Empanada is a breeze. Here is an easy empanada recipe that uses baking. The ingredients and procedure includes two parts, the Filling and the pastry shell.
Ingredients
1. Filling
1 medium sized cooked chicken (flaked, cut to small pieces)
1 small can green peas
4 medium sized potatoes, cubed
1 small can mushrooms, sliced
1/3 carrots, cubed
1 can cream of mushrooms or Chicken soup
1 tablespoon sugar
salt and pepper to taste
2 large onions thinly sliced and chopped
2. Pastry Shell
10 cups all purpose flour with
2 cups cake flour
2 cups shortening
1/2 cup margarine (or Crisco)
3 cups water (lesser depends on water absorption)
2 tablespoons salt
Procedure
A. Filling
1. Saute onions in 4 tablespoons margarine. Remove from pan.
2. Saute potatoes; add peas and mushrooms.
3. Add Chicken meat and cream of chicken or mushroom soup.
4. Simmer to cook and season with salt and pepper to taste.
5. Set aside to cool completely.
B. Pastry Shell
1. Sift flours with salt; put in large bowl and cut in shortening.
2. When flour resembles corn meal. add water and mix well with hands.
3. Cover with wet cloth for 20 minutes before using.
For Filling Pastry
1. Roll out dough and cut into 4 x 3 steips.
2. Put a spoonful of filling in the center and fold over the 2 edges.
3. Seal the edges by pressing them with a fork.
4. Brush the top with egg yolk and prick with a fork.
5. Bake at 350 F for 30-35 minutes.
6. Serve hot or cold.
Note:
If you put teaspoonfuls, you come out with around 90 pieces empanada. Use milk if you have don't have eggyolk to brush.