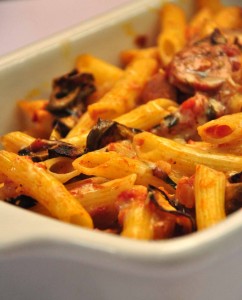 The grilled eggplant in this recipe is a delightful and healthy addition to the usual or should I say, boring, baked pasta dishes that we've had in the past. Try using a variety of grilled vegetables such as zucchini, carrots and broccoli to add a bit of zing to some of your typical pasta concoctions.
Ingredients:
1 box penne rigate, about 225 grams
1/3 cup pure olive oil
1 medium onion, coarsely chopped
2 stalks celery, coarsely chopped
6 cloves garlic, minced
2 cans whole peeled tomatoes, about 800 grams
1 teaspoon Lea and Perrins Worcestershire Sauce
Lea and Perrins Hot pepper Sauce, to taste
10 to 12 fresh basil leaves
salt, to taste
5 pieces eggplants, about 400 grams
2 cups sliced garlic sausage, about 450 grams
vegetable or corn oil, for cooking the sausage
1 cup shredded mozzarella cheese, about 200 grams
½ cups grated Parmesan cheese

Procedure:
1. Cook penne according to package directions. Set aside.
2. In a pan, sauté the onion and celery in ¼ cup olive oil until translucent. Add the garlic and cook for a few minutes. Add the whole peeled tomatoes, Lea and Perrins Worcestershire Sauce, and Lea and Perrins Hot Pepper Sauce. Simmer for 25 to 30 minutes. Add the basil leaves and season with salt.
3. Slice the eggplants diagonally, about ¼-inch thick. Season with salt and lay in a single layer on a paper towel-lined tray. Set aside to drain for 30 minutes then grill until slightly softened. Set aside.
In a sauté pan, cook the sausage in a little oil until golden brown.
4. In a bowl, toss together cooked pasta, tomato sauce, grilled eggplant and garlic sausage.
5. To assemble, grease a 2-quart baking dish with the remaining olive oil. Place half of the pasta mixture into prepared dish. Top with half of mozzarella and Parmesan cheese. Repeat layers. Cover with aluminum foil and bake in a preheated 375?F oven for 25 minutes. Remove the aluminum foil and bake uncovered for another 10 to 15 minutes. Remove from oven, cool slightly then serve with toasted or garlic bread.
Yield: 8 to 10 servings
Preparation Time: 30 minutes
Cooking/Baking Time: 1 to 1½ hours
You may substitute the penne with macaroni, ziti, spaghetti or farfalle.
"Molto al dente" means "just beneath al dente". Cooking the penne
beneath the "al dente" stage will ensure that the pasta is "al dente"
when it comes out of the oven.
Source of recipe: Chef Jill Sandique, Maya Kitchen. Chef Jill is the culinary consultant for Lea & Perrins Worcestershire Sauce.