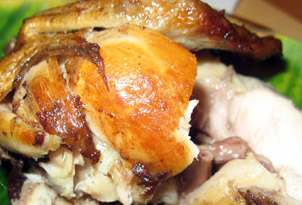 One can easily make lechon manok in the kitchen. I love the smell of lemongrass so I use it often in chicken. Pandan leaves can be an option but lechon is always associated with Lemongrass. I use my turbo broiler to roast the chicken as it is more economical than using my convection oven.
Ingredients:
1 kilo whole chicken.
12 pieces kalamansi (extract juice)
1/4 cup soy sauce
1 teaspoon rock salt for rubbing chicken on the outside
1/4 teaspoon black pepper for rubbing chicken on the outside
1/2 teaspoon rock salt for chicken cavity
1 onion, chopped
1 tablespoon minced garlic
5 pieces tanglad (lemongrass) leaves (substitute with Pandan leaves)
olive oil to baste
Procedure:
1. Wash chicken well. Pat dry with a paper towel.
2. Rub the chicken with soy sauce, pepper and kalamansi extract.
Rub the cavity with salt and kalamansi juice extract.
Marinate overnight.
3. The following day, stuff the cavity with tanglad leaves, onions and garlic. Sew up the opening and tuck the chicken neck in the cavity.
It is important to sew the openings to lock in the flavors and seep through the chicken meat.
4. Baste chicken with olive oil.
5. Roast the chicken in a turbo broiler at 350 F for 1 hour and until golden brown.
You can serve with lechon sauce but I don't use sauce anymore since the chicken meat should be flavorful in itself.