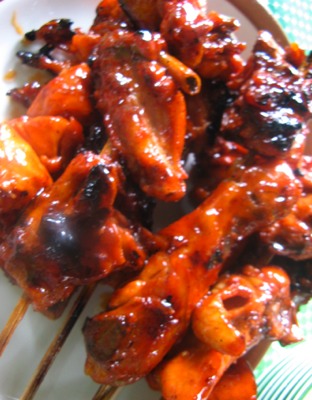 My family cooks grilled dishes every Sunday, maybe because my husband is home and is eager to cook for us. Sundays is spent trying all sorts of grill dishes. The favorite is pork barbecue of course. Next in must-have grilled dishes is Inihaw na manok. Here is how we cook it.
Ingredients:
1 kilo chicken (chicken thigh or breast)
Bamboo skewers, 6 inches
1 head of garlic (minced)
2 pieces hot chili pepper (minced)
1/2 cup brown sugar
1/2 cup vinegar
1/2 cup soy sauce
1 tsp. whole black peppercorns, crushed
1/2 tsp. salt
2 teaspoons calamansi juice
Procedure:
1. Prepare marinade by combining vinegar, soy sauce, garlic, sugar, crushed peppercorns, calamansi juice and salt in bowl. Mix well.
2. Add chicken to the marinade.
3. Marinate the chicken for at least 4 hours or preferably overnight.
4. Place chicken into the bamboo skewers.
5. Grill until cooked. Use the marinade to baste the chicken will it is being grilled.
It is that simple because Pinoy cooking is basically easy to do.