White Forest cake is a wonderful twist on a true classic, the Black Forest cake. Instead of dark chocolate cake, the White Forest Cake makes use of chiffon or the basic yellow cake. The cake can even be an angel cake or vanilla cake.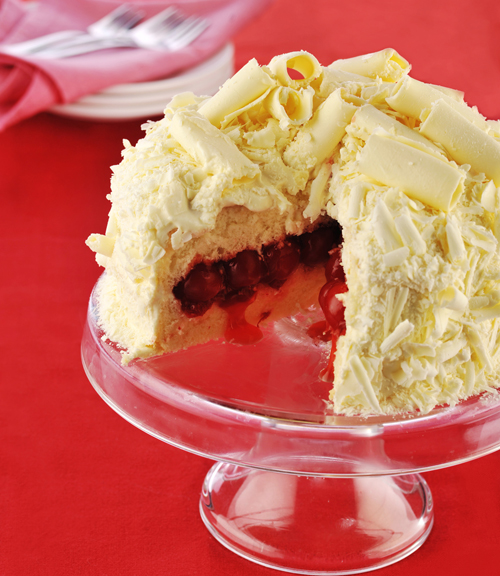 Chiffon Cake:
1 cup + 2 tablespoons sifted MAYA Cake Flour
1 ½ teaspoons baking powder
½ teaspoon salt
6 tablespoons sugar
1/4 cup vegetable oil
4 pieces egg yolks
6 tablespoons water
4 egg whites
¼ teaspoon cream of tartar
6 tablespoons sugar
Frosting:
1 cup all-purpose cream
½ cup sifted confectioners' sugar
prepared syrup (1cup sugar + 1 cup water bring to a boil)
¼ cup brandy
drained halved cherries or cherry pie filling
shaved white chocolate
1. Preheat oven to 350ºF. Sift flour, baking powder, salt and sugar together in a bowl.
2. Make a well at the center, add oil and egg yolks. Blend and pour in water, mix until smooth. Set aside.
3. Beat egg whites with cream of tartar until soft peaks form. Add sugar gradually and continue beating until stiff but not dry. Fold in egg yolk mixture into the egg white mixture until thoroughly blended.
3. Pour onto 8 x 3 inch round pan. Bake for 40 to 45 minutes or until done. Invert to wire rack to cool.
4. Split the cake into 2 layers. Set aside.
5. Whip the chilled cream until stiff then add the sugar.
6. Place 1 cake layer on a platter. Brush with a mixture of syrup and brandy.
7. Spread halved cherries or cherry pie filling. Top with another cake layer and frost the cake all over with whipped cream.
8. Decorate with shaved white chocolate. Chill before serving.
Take note. The filling can also be macapuno, custard cream or whipped cream cheese. The cake can be an angel cake or vanilla cake. Serve.
Yield: one 8-inch cake
For more recipes, other culinary ideas and course schedule, log on towww.themayakitchen.com.