I like how this Crepe Covered Embutido recipe is both traditional and modern. This Christmas, some Pinoy families will either cook the traditional Embutido or Chicken Relleno. If you are feeling adventurous, you can try this well-loved Embutido recipe with modern twist. I never knew you could make crepes out of a hotcake mix.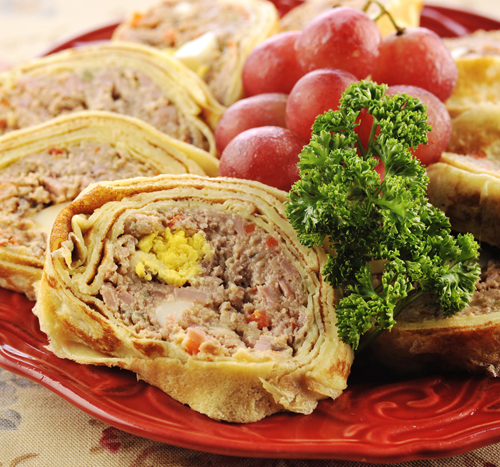 Crepe Batter:
4 pieces eggs
1/4 cup melted butter
2 cups fresh milk
1 package MAYA Original "Fluffy and Tasty" Hotcake Mix 200 grams
Embutido:
½ kilo ground pork
1/3 cup pickle relish
6 slices ham, finely chopped
¼ cup raisins
¼ cup tomato sauce
3 pieces eggs
½ cup grated cheese
2 tablespoons chopped green bell pepper
¼ cup finely chopped carrots
salt and pepper to taste
Prepare Crepes:
1. In a mixing bowl, beat eggs, melted butter and fresh milk until well combined then add in the hotcake mix.
2. Keep stirring until no lumps and batter becomes smooth. Use a 6-inch non-stick frying pan and ladle ¼ cup crepe mixture.
3. Tilt the pan from side to side to get an even layer of crepe. Repeat the same procedure until all crepe batter is used. Set aside.
Embutido Mix
4. In a bowl, combine all the ingredients for embutido, mix until well-blended.
5. Divide the mixture into 2 then wrap in aluminum foil or plastic.
6. Roll tightly and seal the ends.
7. Place in a steamer and cook until done. Cool.
8. Unwrap in foil then wrap with a layer of crepes. Chill and serve.
Yield: 3 pieces medium-sized embutido
For more recipes, other culinary ideas and course schedule, log on to www.themayakitchen.com.