I already shared a Chicken Relleno recipe but there are many ways to prepare this all time favorite for Noche Buena. If Americans have their Stuffed Turkey for Thanksgiving, we, Filipinos have our traditional Chicken Relleno for ou Noche Buena. Our Stuffed, baked Chicken tastes so much better than Turkey. I have tried cooking both but I still prefer the Chicken Relleno ,of course.
If you are familiar with Café Juanita , Dr. Efren 'Boy' Vazquez the Guest Chef of Maya Kitchen shared his version of Rellenong Manok.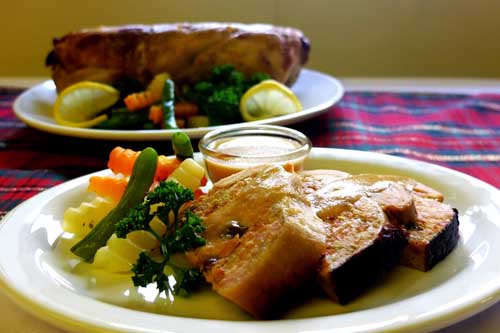 1 WHOLE CHICKEN ( APPROXIMATELY 1.2 KILOS)
3 TABLE SPOON Seasoning
3 PCS Calamansi
½ KILO Ground pork
1 PACK Sweet ham
1 CAN Vienna sausage
¾ CUP Pickle relish
150 GRAMS Raisins
2 TBSP Catsup
12 PCS Green olives, chopped
150 GRAMS Cheddar cheese, grated
1 TSP GROUND white pepper
6 PCS Eggs
1 PC Hard boiled egg
1 PC Chorizo de bilbao
Procedure:
1. Debone chicken and marinate in calamansi and salt for 1 hour. (Note: the supermarket can do this for you)
2. Mix all the other ingredients (except the hard-boiled egg, sausage, chorizo) and stuff these into the chicken as filling.
3. Place the hard boiled egg, sausages and chorizo within the chicken then suture to close.
4. Wrap the stuffed chicken with aluminum foil Cook in an oven for one and one half hours at 350 degrees.
5. When done, remove foil, set oven to broil to help brown the surface of the chicken
Sauce:
½ cup flour
50 grams butter
soup stock
ground black pepper
Chicken cube seasoning
Drippings