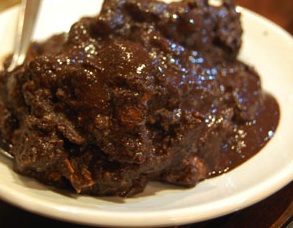 Crispy Dinuguan? I first tasted Crispy Dinuguan in Kanin Club at the Paseo de Santa Rosa, Santa Rosa Laguna. It's located near our country home, just after the Laguna Technopark, along the Santa Rosa road that leads up to Tagaytay. This is dinuguan with a twist and thought I'd recreate this dish for the family. Crispy Dinuguan tastes like your ordinary dinuguan except that the pork is cooked like the Crispy Lechon Kawali way.
So this recipe will be divided into two parts, the preparation of Lechon Kawali and then the Dinuguan.
Please don't cook this dish frequently. The dish is a sure-fire recipe to clogged arteries.
Let's start with Lechon Kawali
3/4 kilo pork pork belly (or liempo)
4 garlic cloves, crushed
2 bay leaves
1 teaspoon peppercorns
salt
water, for boiling
oil (for deep fat frying)
Instructions for cooking Lechon Kawali
1. Cut the pork belly into serving pieces.
2. Mix crushed garlic, peppercorn, bay leaf, salt and water in a sauce pan.
3. Boil and simmer until skin is tender, around 30 to 40 minutes.
4. Drain, cool and dry well before frying to minimize splatters.
5. Deep fry the pork belly pieces until golden brown and the blisters show on the skin. Set aside.
Let's now prepare for the Dinuguan
Cooked Lechon Kawali (see above)
1/4 kilo minced pork liver
2/3 cup native vinegar
1 large onion, chopped
1/2 teaspoon crushed peppercorn
1 small garlic, minced
1/2 cup pork blood (refrigerate until ready to use)
1 1/2 cups water
2 teaspoon sugar
1 tablespoon patis
2 large hot peppers (siling haba not labuyo)
salt to taste
Puto as side dish
Let's cook the dinuguan
1. Chop coagulated blood. Mince the liver and season with a little salt. Set aside separately.
2. Mix vinegar, onion, pepper, and pork blood all together in a sauce pan. Blend well and bring to a boil.
3. As soon as the mixture is boiling, add water, sugar and patis.
4. Drop in the minced liver and hot peppers to the mixture. Simmer for 5 more minutes then add the Lechon Kawali. Mix just enough to coat the Lechon Kawali pieces. Don't overcook or the crispiness will be gone.
5. Add salt to taste but this is optional. Remember the Lechon Kawali is already salty and may make the dinuguan even saltier.
Note that the dinuguan consistency depends on your preference. For Crispy Dinuguan, I prefer it to have a thick consistency like the photo shown above.
Best served with puto or plain rice.
Serves 6