"The only rib recipe you will ever use again" caught my attention. I saw that caption on my friend's Facebook wall and clicked the photo. Since my family loves eating grilled baby back ribs, I decided to check out the recipe. Just looking at the ingredients , I knew it will turn out yummy. The recipe calls for Coca Cola soda but I guess you can use any Cola soda brand.
I cooked it last night and it was a hit. My family loved the juicy ribs including the homemade barbecue sauce.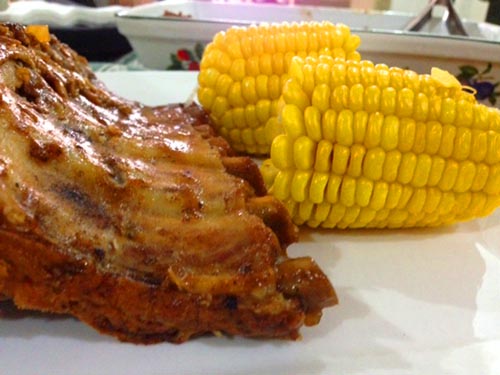 I was not able to style it properly including basting the ribs with the sauce but if you look at the original photo (shown below), trust me it is delicious. Now I cannot say for sure if this is "the only rib recipe you will ever use again" unless I try out a dozen more.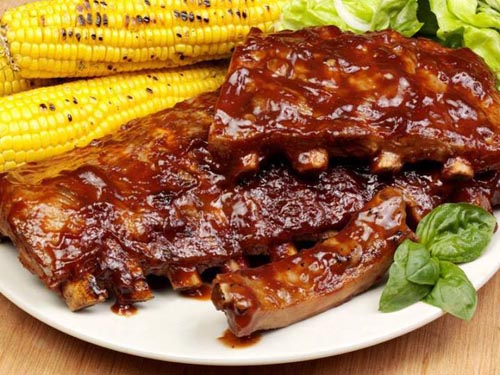 I bought my baby back ribs from South Supermarket frozen meat section . It roughly cost 240 pesos for a kilo. I bought two packs since the recipe calls for four pounds or an estimated 2 kilos.
This is the original recipe which I followed to the letter . You can always alter the recipe to your taste.
FOR THE RIBS
1 (1.5 liter) bottle of Coca-Cola Soda (not diet!)
1 large onion, quartered
6 cloves garlic, peeled and smashed
2 bay leaves
1 tablespoon whole black peppercorns
2 racks baby back ribs (about 4 pounds)
FOR THE SAUCE
2/3 stick unsalted butter
1 small white onion, diced
2 cloves of garlic, minced
1 cup ketchup
1½ tablespoons yellow mustard
¼ cup dark brown sugar
1 teaspoon Worcestershire sauce
1 (12 ounce) can Coca-Cola (not diet!)
Kosher salt & freshly ground black pepper, to taste
1. In a large pot, add the (1.5 liter) bottle of Coca-Cola, onion, garlic, bay leaves and peppercorns.
2. Add the ribs and, if necessary a bit of water just to ensure the ribs are submerged completely.
3. Bring to a boil and reduce heat to a simmer, turning the ribs occasionally, until the meat pulls away from the bone, about 1 hour. (Extend beyond 1 hour if not yet done)
To make Barbecue sauce
4. Meanwhile, to make the sauce combine the butter, onion, garlic, ketchup, mustard, brown sugar, Worcestershire sauce, and (12 ounces) Coca-Cola in large heavy sauce pan.
5. Bring to a boil and reduce heat. Simmer for about 25 minutes stirring often until sauce is thickened and reduced. Season to taste with salt and pepper and let cool slightly. Using a blender, puree the sauce.
Note: Sauce can be made up to 5 days ahead and stored in the refrigerator in an air-tight container. Serves 6
Preheat the grill to high.
1. Remove the ribs from the pot, pat dry, season with salt and pepper and brush liberally with the sauce.
2. Grill, turning often, until charred on the outside, about 8 minutes.
3. Loosely tent the ribs with foil and let rest for 5 minutes before cutting into individual ribs.
4. Serve extra sauce on the side for dipping.
Original photo and recipe via Lady Texas